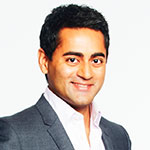 Preet Banerjee
Preet Banerjee is a management consultant to the financial services industry with a focus on the commercial application of behavioural finance research and fintech. He is a fellow of the Canadian Securities Institute, and holds the Derivatives Market Specialist (DMS) and Financial Management Advisor (FMA) designations. He is a director at FAIR Canada (Foundation for the Advancement of Investor Rights), and member of the governing council at the University of Toronto. He won the Portfolio Managers Association of Canada's Excellence in Investment Journalism award in 2012, and was named by Advisor.ca as one of Canada's Top 10 Financial Visionaries. You can learn more about Preet at his website: PreetBanerjee.com, on YouTube, and Twitter.
Cleaning Up Your Personal Finances
It's that time of year when many Canadians spend an entire weekend spring cleaning their home. It's a chore, but after it's done, they have a sense of accomplishment, and their house looks great, too. Spring may also be an ideal time for a deep cleaning of your financial house. Over the past few months, there have been a lot of...