Tangerine Money-Back Credit Card
With no annual fee, the Tangerine Money-Back Credit Card makes it easy to be smart with your money. Every purchase you make earns you cash back that you can have deposited directly back onto your Credit Card to apply towards your balance, or into a Tangerine Savings Account, each month automatically. So you'll save money even when you're spending. You get 2% Money-Back Rewards on your purchases in select 2% Money-Back Categories, and 1% Money-Back Rewards on all other purchases.
Unlike other credit cards, where rewards need to be requested or come with unreasonable restrictions, with the Tangerine Money-Back Credit Card, you earn unlimited Money-Back Rewards. There is no annual fee, which means you're not paying a price to earn cash back, either. And you get your Money-Back Rewards monthly as you earn them. It's your money, plain and simple.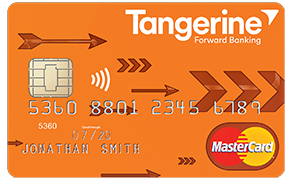 Rewards Features:
Earn 2% Money-Back Rewards on purchases in two 2% Money-Back Categories of your choice, and 1% Money-Back Rewards on all other purchases.
Have your Money-Back Rewards deposited into a Tangerine Savings Account, and get a 3rd 2% Money-Back Category.
Money-Back Rewards are earned automatically and paid monthly, and can either be applied towards your Credit Card balance or redeemed into your Savings Account.
No limit on the amount of Money-Back Rewards you can earn.
Change your 2% Money-Back Categories to suit your spending.
Orange Alerts are emailed to you so that you're up-to-date on what's happening in your Account.
Additional Card Benefits:
1.5% Foreign Conversion Fee – one of the lowest in market
Free Cards for Authorized Users on your Account
Purchase Assurance and Extended Warranty1 – For most new purchases made anywhere in the world using your Tangerine Money-Back Credit Card, you may receive a lifetime maximum of up to $60,000 for the following insurance coverage:
Purchase Assurance, which may automatically cover loss, theft or damage, in excess of other insurance, for 90 days from the date of purchase; and
Extended Warranty, which may double the period of repair services, to a maximum of one additional year, when the original manufacturer's warranty expires.
Add your Tangerine Money-Back Credit Card to the Wallet app on your Apple® device and use Apple Pay pretty much everywhere you love to shop. Look for the Apple Pay or contactless logo. It's simple and secure. Learn more.
MasterCard® Benefits:
Accepted worldwide at more than 24 million locations in over 210 countries
MasterCard Zero Liability
MasterCard Tap & GoTM
2% Money-Back Categories:
| | | | |
| --- | --- | --- | --- |
| | Grocery | | Furniture |
| | Restaurants | | Hotel-Motel |
| | Gas | | Recurring Bill Payments |
| | Drug Store | | Home Improvement |
| | Entertainment | | Public Transportation and Parking |
There is no annual fee with the Tangerine Money-Back Credit Card. However, certain transactions do involve a fee or attract interest charges if they remain unpaid after the statement due date:
| | |
| --- | --- |
| Interest on overdue balances: | 19.95% |
| Interest on Cash Advances: | 19.95% |
| Foreign Currency Conversion: | 1.50% is added to the converted transaction amount |
| Cash Advance: | $2.50 within Canada, $5.00 outside Canada |
| Balance Transfer: | 1.00% of the amount transferred, or minimum of $5.00 |
| Dishonoured Payment: | $25.00 |
| Over-limit: | $20.00 (maximum one over-limit charge per monthly statement period) |
| Rush Card: | $25.00 |
| Past Statement Reprint: | $5.00 per statement (no charge for reprint of current monthly statement) |
Grace Period: We calculate interest on any amount owed from the Transaction date until that amount has been paid in full. However, we do not charge interest on new Purchases that appear on your Credit Card Account statement for the first time if we receive payment in full of your Balance (as shown on your Credit Card Account statement) by the Payment Due Date on that statement. This interest-free grace period does not apply to Cash Advances.
Security Guarantee: We take security seriously, which is why you get our industry-leading Security Guarantee. Our enhanced DoubleSafe login process protects you and your Accounts from unauthorized access, while reassuring you that you are at the real Tangerine website. Our encrypted website ensures confidential data is protected online. All information you share with us is held in the strictest confidence and is in compliance with privacy standards followed by all major Canadian financial institutions.
We have an ongoing commitment to build innovative and proven security features that enhance your banking experience. That's why Tangerine offers you free IBM Security Trusteer Rapport software to provide online identity theft and online transaction protection. IBM Security Trusteer Rapport will protect your web browser session with any website that contains private or personal information. It doesn't require any configuration or maintenance. Simply install and browse safely.
Apple Pay is here!
| | | |
| --- | --- | --- |
| Use it to pay easily with your Tangerine Money-Back Credit Card. | | |
---