Earn Even More Refer A Friend Bonuses
We're proud to be the bank that helps Canadians earn, save and keep more of their money. And we're grateful when our Clients help spread the word about how we do this. As a special thank you, we're giving you the chance to earn $300 in Bonuses* when you successfully refer three friends to Tangerine.
Until October 31, 2018, for every friend who opens their first Tangerine Account with a deposit of $100 or more using your Orange Key®, you'll each earn a Bonus of $50.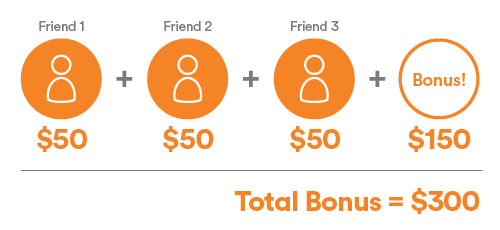 As a thank you for successfully referring three friends, you'll get an extra $150 Bonus, that's a total of $300 in Bonuses for you.*
Our great rates, award-winning Client service and innovative products are reason enough to tell a friend about Tangerine, but with this extra offer, it's a perfect time to give a friend your Orange Key.
For you: $300 when you successfully refer 3 friends
For them: $50 when they become a Tangerine Client
Legal Stuff
* This is a limited time promotion. For existing Clients to earn $50 for each friend that becomes a new Tangerine Client, new Tangerine Clients must complete the following actions ("All Actions"): successfully open their first Tangerine Account (excluding Tangerine Money-Back Credit Card), make a minimum deposit of $100 and enroll using a Refer a Friend Orange Key between August 1, 2018 and October 31, 2018 (the "Offer Period"). To earn an additional $150 Bonus, three friends must become new Tangerine Clients and complete all Actions within the Offer Period. Only one (1) $150 Bonus will be paid to each existing Client. New Clients must never have had an ING DIRECT or Tangerine Account. Accounts are deemed successfully opened when the new Client has satisfied the Account Terms and Conditions and the Account is without restrictions. Referral Bonus deposits will be made within 30 days of the new Client completing All Actions, and will be paid into your non-registered Tangerine Savings Account or Tangerine Chequing Account. If you don't have either Account, you'll need to open one so that we can make the deposit automatically. After the Offer Period, the Limited Time $50 Refer a Friend Bonus will end, to be replaced with the standard Refer a Friend Bonus of $25, which will be reinstated ongoing for future referrals. Tangerine reserves the right to end the Offer. Full Refer a Friend Terms and Conditions are available at tangerine.ca/referafriend/termsandconditions.