Money-Back Credit Card
Unlike other credit cards, the Tangerine Money-Back Credit Card allows you to earn unlimited Money-Back Rewards on everyday purchases — with no annual fee.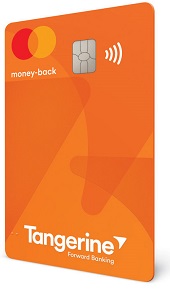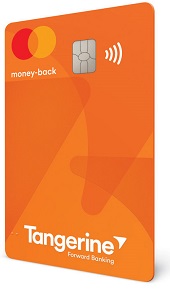 Key Features of a
Money-Back

Credit Card

Earn cash back

Earn 2% Money-Back Rewards on your everyday purchases in two 2%

Money-Back

Categories of your choice, and 0.50%

Money-Back

Rewards on all your other everyday purchases.

Earn extra Rewards

Get your Rewards deposited into your Tangerine Savings Account and get a

third

2% Money-Back Category.

Automatic earning

Money-Back Rewards are earned automatically on everyday purchases and paid monthly. These can be applied to your Credit Card balance or redeemed into your Savings Account.

No limits

No limit on the amount of Money-Back Rewards you can earn on your everyday purchases. Conditions apply.

Transfer and save

During your first 30 days, transfer balances and pay only 1.95% interest on the transferred balance for the first 6 months (19.95% after that)

†

.

Track and categorize your spending

Organize your transactions and stay on top of your spending, so you can see your financial habits and you'll get a better idea of what you have

left to spendleft to spend

each month.

Free cards for Authorized Users on your Account

Mastercard® accepted worldwide at more than 24 million locations in over 210 countries

Mastercard Zero Liability
New Features
Braille Card identifier
Identify and orient your Tangerine Credit Card by touch using the Braille letter C. This important change can help make using the Card just a bit easier for everyone.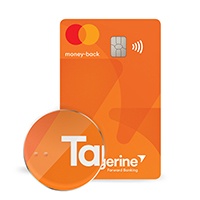 2% Money-Back Categories
Public Transportation and Parking
Fees & Interest
$0 Annual fee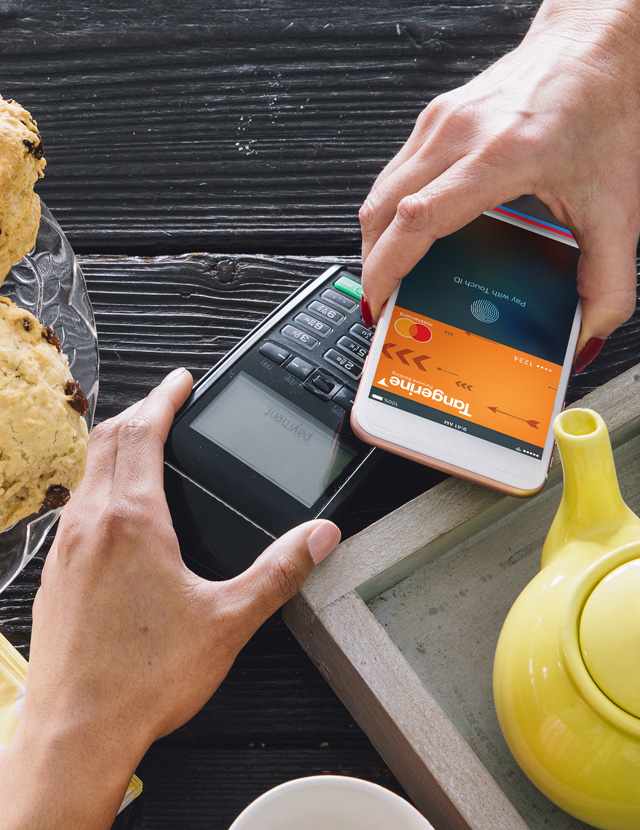 Information about fees and interest rates

| | |
| --- | --- |
| Interest on Purchases: | 19.95% |
| Balance transfer fee: | 3.00% of the amount transferred, |
| Promotional Balance transfer interest rate†: | 1.95% interest for the |
| Foreign currency conversion: | 2.50% |
| Cash advance: | $3.50 within Canada, $5.00 outside Canada |
| Interest on Cash Advances: | 19.95% |
| Dishonoured payment: | $25.00 |
| Over-Limit: | $25.00 |
| Rush Card: | $25.00 |
| Past statement reprint: | $5.00 per statement, no charge for |
Grace Period: We calculate interest on any amount owed from the transaction date until that amount has been paid in full. However, we don't charge interest on new Purchases that appear on your Credit Card Account statement for the first time if we receive payment in full of your Balance (as shown on your Credit Card Account statement) by the Payment Due Date on that statement. This interest-free grace period doesn't apply to Cash Advances.
See the Disclosure Statement that you will receive with your Card for full details about the fees and rates that apply to your Card.
Mobile Wallets
Convenient ways to pay with your Tangerine Client Card and Money-Back Credit Card.
Apple Pay
Google Pay
Samsung Pay
---
Additional Card Benefits
Purchase Assurance and Extended Warranty
1
– For most new purchases made anywhere in the world using your Tangerine Money-Back Credit Card, you may receive a lifetime maximum of up to $60,000 for the following insurance coverage:
• Purchase Assurance to automatically cover loss, theft or damage on most new insured items for 90 days from the date of purchase
• Extended Warranty which may double the period of repair services to a maximum of one year
With a Tangerine Money-Back Credit Card we'll help you keep your spending on track.
We recently introduced a new enhancement to help you spend smarter. It looks at your Credit Card Account activity, along with other details you provide, and gives you information to help you stay up-to-date with your spending and make smart decisions with your money.
Become a Tangerine Client today
Apply Now
Check out these helpful articles
General Terms:
Balance Transfers are treated as Cash Advances and interest applies from the transaction date that appears on your monthly statement to the date you repay the balance in full. There is no interest-free grace period on Cash Advances or Balance Transfers.
Annual Interest Rates: The annual interest rate on Purchases and Cash Advances (including Balance Transfers) is 19.95%. Rates are subject to change. If you don't make 2 consecutive monthly Minimum Payments, or at any time thereafter, an interest rate of 24.95% will apply to your Account on Purchases and Cash Advances (including Balance Transfers).
Other Fees and Rates: These fees are charged on the day the transaction occurs (unless otherwise indicated): Cash Advance: $3.50 within Canada, $5 outside of Canada; Balance Transfer: 3% or minimum of $5 (unless reduced or waived) of the amount transferred when it is posted to your Account. Dishonoured Payment: $25; Rush Card: $25; Over-Limit: $25 (maximum one Over-Limit charge per monthly statement period); Past Statement Reprint: $5 per past statement. There is no charge for a reprint of your current monthly statement. Foreign Currency Conversion: When the converted transaction amount gets posted to your Account, we'll add a foreign currency conversion fee of 2.50% to the converted transaction amount.
Footnote dagger

Balance Transfer Promotional Offer at 1.95% for 6 months (1% Balance Transfer Fee)
A Promotional Rate of 1.95% will apply to any and all Balance Transfers made within 30 days of the Account opening, and will remain in effect for 6 Statement Periods from the date the last such Balance Transfer was posted to the Account (the "Promotional Rate Period"). To take advantage of this Promotional Offer, you must complete the Balance Transfer request within 30 days of Account approval. You must also activate your Card within 45 days of Account approval for the requested Balance Transfer to be processed, or the Balance Transfer will be automatically cancelled. Balance Transfers are treated as Cash Advances on your Card and do not have an interest-free grace period. Balance Transfers may not exceed the available credit on the Account. If the Balance Transfer exceeds the available credit, the Balance Transfer transaction will not be processed. A 1% Balance Transfer Fee will be charged on each Balance Transfer amount and will be immediately charged to your Credit Card. This Balance Transfer Fee is waived by Tangerine if you are a resident of the province of Quebec at the time you accept this offer. Interest does not accrue on the Balance Transfer Fee, however it is included in the Minimum Payment amount on your monthly statement. You must continue to make all of your monthly Minimum Payments by the Payment Due Dates shown on your monthly statements. If you still have an amount owing from your Balance Transfer when the Promotional Rate Period ends, the Cash Advance interest rate of 19.95% will apply to that amount. You must continue to make the Minimum Payments on your Account, regardless of whether the Balance Transfer has been processed to your Account. Balance Transfers may not be used to transfer money to or from another Tangerine Account. See the
Tangerine Credit Card Cardholder Agreement
for more information about how we apply payments to your Account.
Cash Advances (including Balance Transfers) do not earn Tangerine Money-Back Rewards. See the terms and conditions of the Tangerine Money-Back Rewards Program at
Tangerine.ca/CreditCardLegal
for full details on other items that do not earn Tangerine Money-Back Rewards.
Footnote 1
Insurance coverage is underwritten by American Bankers Insurance Company of Florida Details of the coverage, including definitions, benefits, limitations, and exclusions are in the Certificate of Insurance provided with the Card. Read the Certificate of Insurance then keep it in a safe place with your other valuable documents.
Any of these offers may be changed or cancelled at any time without notice.
Mastercard and the circles design are registered trademarks, and True Name is a trademark of Mastercard International Incorporated.
Tangerine is a registered trademark of The Bank of Nova Scotia, used under licence.
Forward Banking is a registered trademark of Tangerine Bank.