Your Card's on its way:
Now that you've been officially approved, you'll need an actual Card. And you can expect yours to arrive in about 10 business days.
Steps for activating your new Card:
Step 1
Log in and choose your Money-Back Credit Card Account under 'Spending'.
Step 2
For desktop, hit 'Activate'. For mobile, go to 'More Actions' and then hit 'Activate'.
Step 3
Enter your CVC (the three digits on the back of your card) and your PIN, then hit the 'Activate' button.
---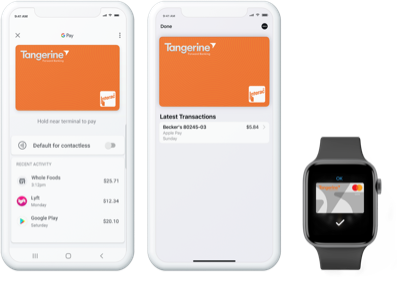 Mobile wallets
Add your Tangerine Client Card and Credit Card to your
Apple Pay
,
Google Pay
, and
Samsung Pay
mobile wallets and use it where contactless payments are accepted.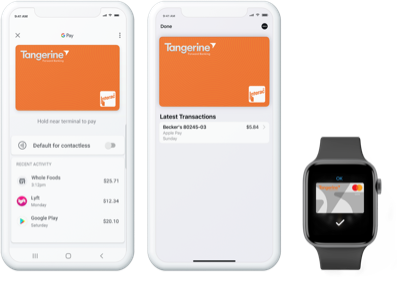 ---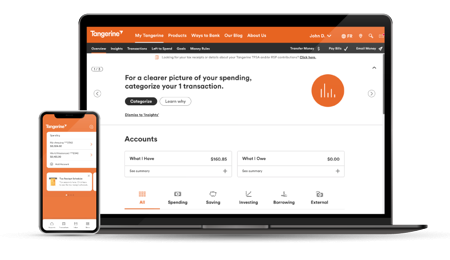 Add an authorized user
It's easy to add an Authorized User to your Account. Once you're logged in, click your Credit Card Account and go to 'Account Details'. Click 'Manage' under 'Authorized Users'.
Remember, as the Primary Cardholder, you're responsible for paying for the entire balance on your Credit Card Account, including any charges made by Authorized Users.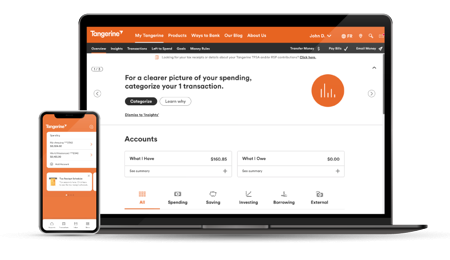 Don't forget to take advantage of these great card features!
Personalization of Categories
Earn 2% Money-Back Rewards on your everyday purchases in up to 3 Money-Back Categories of your choice
Automatic Earning
Money-Back Rewards are earned automatically on everyday purchases and paid monthly. These can be applied to your Credit Card balance or redeemed into your Savings Account
Travel Notices
Share your international travel plans with us in advance. This helps us know that your Credit Card transactions outside of Canada are legitimate.
Earn Extra Rewards
Get your Rewards deposited into your Tangerine Savings Account and get a 3rd 2% Money-Back Category
Authorized Users on your Account
Authorized users will receive a card for free
Easy online Pause My Card feature – in case you need it
If you ever think you've lost or misplaced your Card, there's no need to panic. With a couple quick clicks, you can temporarily suspend it.
Mastercard® accepted worldwide at more than 24 million locations in over 210 countries
Mastercard Zero Liability†
Check out these helpful articles
®/TM Mastercard is a registered trademark, and the circles design is a trademark of Mastercard International Incorporated.
Tangerine is a registered trademark of The Bank of Nova Scotia, used under licence.
Forward Banking is a registered trademark of Tangerine Bank.