For 25 years, our Clients have been choosing us to help them make smart decisions with their money. So we decided the best way for us to celebrate this special birthday is to pay it forward – by giving away $25,000* as a thank you to our Clients!
Not yet a Client? Well, now you have one more great reason to sign up!
From April 27, 2022 to May 27, 2022, eligible Clients will be automatically entered for a chance to win 1 of 25 prizes of $1,000*!
A Tangerine Savings Account helps you save
No unfair fees, no service charges while you save with us

Set up an Automatic Savings Program (ASP), and your money grows on its own
Reasons to switch to a Tangerine Chequing Account, now with Visa Debit
Free daily chequing transactions

Free Interac e-Transfer® transactions

Free access to 3,500 Scotiabank ABMs A B M's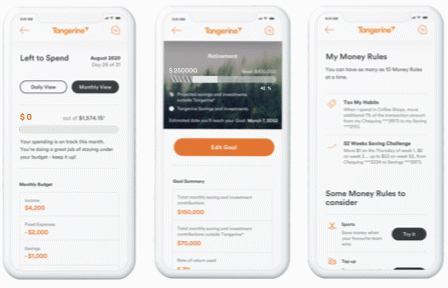 Helpful tools to manage your money
Simplify your life by using our
money management tools
, like Goals and Left to Spend. These tools were designed to make saving, tracking your spending and staying on top of your finances all a breeze.
Show Me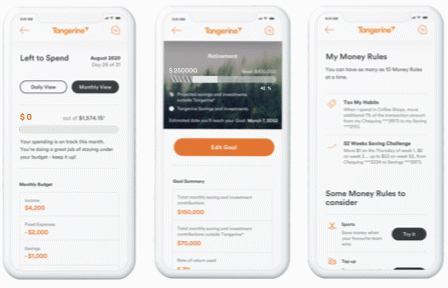 Digital signup
Become a Client completely digitally with our Mobile Banking app. Sign up without leaving your home or having to call
us—it's
a fast, convenient and secure
mobile experience.

footnote

*
Learn More
Thank you times ten —Highest in customer satisfaction
Tangerine has earned the highest ranking in customer satisfaction among the midsize retail banks, for the tenth consecutive year. The 2021 J DJ.D. Power Canada Retail Banking Satisfaction Study†† footnote dagger dagger ranked Tangerine top for overall customer satisfaction in the Midsize Bank Segment and #1 in trust with Retail Banking.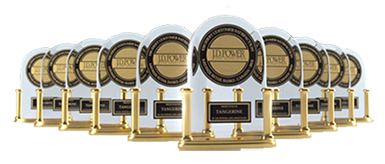 Check out these helpful articles
*
No purchase necessary
. Contest runs from April 27, 2022 at 12:00:01 am (ET) to May 27, 2022 at 11:59:59 pm (ET). 25 winners will each receive one (1)
$1,000
(one thousand dollar) deposit into the winning Client's non-registered Tangerine Savings Account or Tangerine Chequing Account. Total value of all Prizes to be awarded in the Contest is $25,000 (twenty-five thousand dollars). Odds of winning depend on the total number of eligible entries. Open to Tangerine Clients who are Canadian residents, have at least one Tangerine Account in good standing and are not in Dormancy, and have reached the age of majority at the time of entry. Skill-testing question required. Some conditions apply.
See full Official Rules for complete details
.
Interac e-Transfer is a registered trade-mark of Interac Corp. Used under licence.
Visa is a trademark of Visa Int., used under license.
footnote lozenge◊Pay no fees for everyday Chequing transactions. For non-standard transactions, a fee may apply, Opens P D F document.
footnote 1
The New Client 2.75% Interest Rate and Visa* Debit 20% Cashback Bundle Offer (the "Offer") is available to new Tangerine Clients who: (a) have a Client Number created between May 5, 2022 and August 18, 2022, (b) become a Tangerine Client using the Promo Code "EARNMORE", (c) open an Applicable Savings Account within 30 days of the date their Client Number was created, (d) open a Tangerine Chequing Account within 30 days of the date their Client Number was created, and (e) meet all other Offer terms and conditions (collectively the "Offer Qualifying Conditions"). The 2.75% Promotional Rate will apply to deposits made to an Eligible Client's Applicable Savings Account(s) for 153 days (5 months) beginning on the date all Offer Qualifying Conditions have been met, to a maximum of
$1,000,000
(in the currency of the Applicable Account) per Applicable Savings Account Type (for deposits to registered Applicable Savings Accounts made through a T2033 form, please see the full Offer Terms and Conditions). The Promotional Rate is an annualized rate, calculated daily and paid monthly. Eligible Clients will earn a cashback bonus of 20% on eligible online purchases and online bill payments made on a merchant's website using the Visa Debit feature of their Client Card for 60 days, up to a maximum of $400 per Account. The 60-day period for Eligible Transactions ("Eligible Transaction Period") begins on the date the Client Card is activated. The Cash Bonus will apply to the sum of all Eligible Transactions less any refunds, returns or other similar credits made during the Eligible Transaction Period. Eligible Clients must activate their Client Card within 60 days of the date their Chequing Account was opened. The Bonus will be deposited to the Client's Account within 30 days of the end of the Eligible Transaction Period. For Clients with two Chequing Accounts, only the Account that is designated as "Chequing" on their Client Card will qualify for the Offer. Limit of one (1) Cash Bonus per Account. Offer is not transferable and can't be combined with other promotional savings rate offers or chequing cash bonus offers. Further, while opening both Accounts is not required generally in order to open either a Chequing Account or Savings Account, you need to open both Accounts within your first 30 days to be eligible for this Offer. By accepting the Offer, you agree to the terms and conditions of this Offer and consent to receive electronic messages that notify you when the Promotion Period is expiring and of any changes to your Account(s) that will take effect after the Promotion Period expires.
Full Offer Terms and Conditions, including definitions of any capitalized terms, are available here
. Offer may be changed, extended or cancelled without notice.