Taming the Urge to Splurge
Wednesday, July 28th, 2021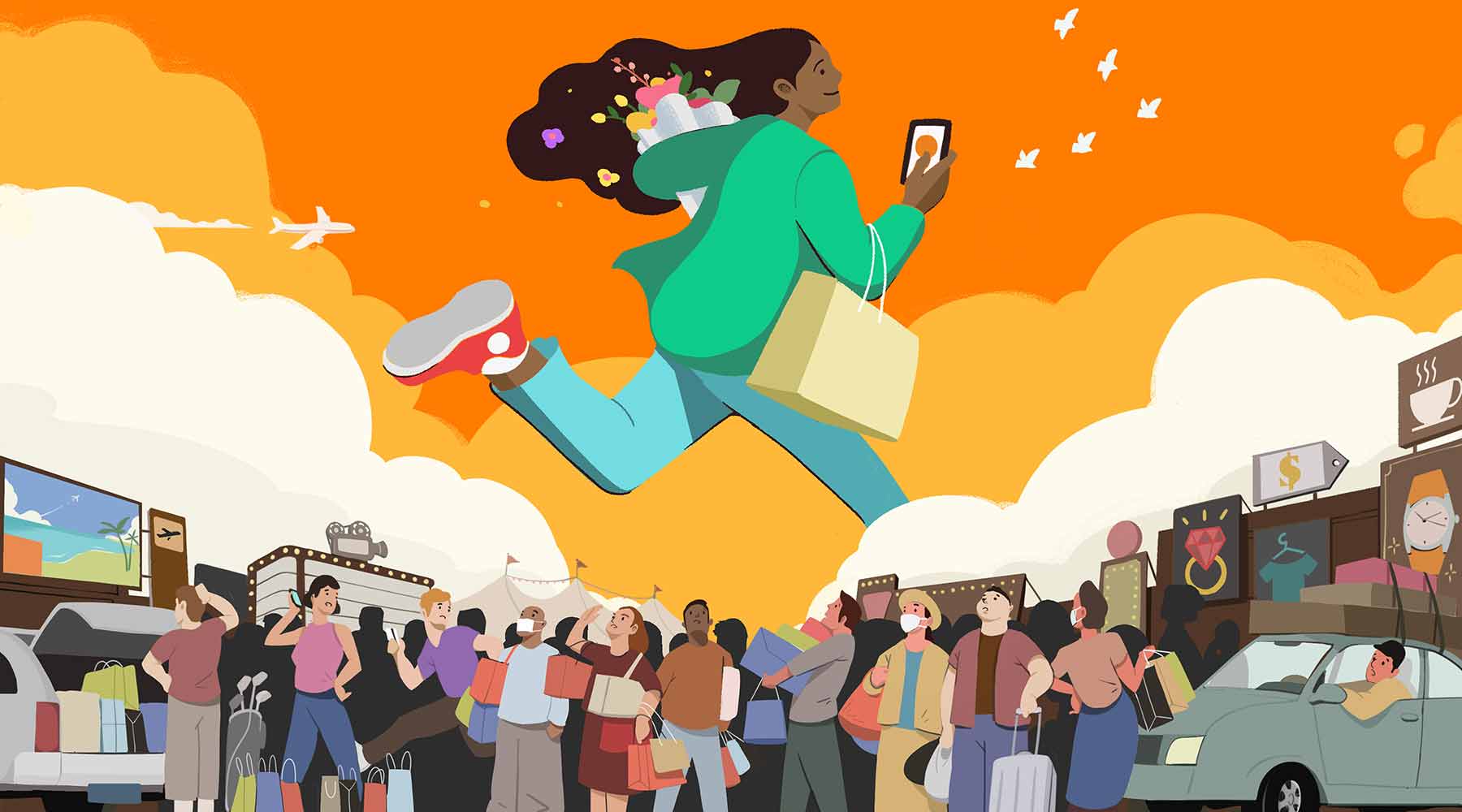 Call it the "lockdown effect".
A year and a half of closed borders and shuttered shops has had an unintended benefit for some Canadians: it forced us to save money.
We cancelled dream trips and postponed wedding plans. Nights on the town became picnics in the park. And entertainment was enjoyed comfortably, and cheaply (hello, Netflix binges!), from our living rooms.
So while lockdowns demanded months of sacrifice, they also locked down our spending habits.
In that time, Canadians built up a surplus of cash: the household savings rate went up from the 59-year average of 7.78% to 13.10% in the first few months of 2021.
Now that restrictions are lifting across the country, Canadians will once again be free to spend the estimated $180 billion of savings we accumulated last year.
But should we?
We asked money experts across the country for their tips to help save us from squandering our savings, while still enjoying the freedom of easing restrictions this summer.
Hang on to those Cheaper Thrills


Hey, if it kept you entertained during a pandemic, it can't be all bad.
Just ask Justine Reid. The Calgary resident spent much of her downtime completing 1,000-piece jigsaw puzzles with her husband. "It gave us something to do together that didn't involve a screen."
A Toronto homeowner we spoke with turned the skills he learned from his carpenter dad to turn his garage into a movie theatre, and he still plans to hold socially distant movie nights in the remainder of 2021.
Abby Huet, 37, spent "very little on craft supplies and did a lot of dollar store DIY." While a graphic-design student living in Quebec City doubled down on paint-by-number arts and crafts.
"The key," says Toronto-based certified financial planner Jackie Porter, "is to find a creative balance between living the life you want now and planning for the future." Not every activity warrants a splurge.
…and Save for the Expensive Ones


To Julie Aragon, the return to life is worth the expense.
Before COVID-19, the CEO of Aragon Lending Team hosted a friends, family and fur-babies karaoke party – an event they desperately wanted to repeat.
"In 2020, it was all we could talk about," she says.
Now, with restrictions easing, the home finance pro plans to shell out $500 or more for a home karaoke system of her own. "We can't wait to do it all again!"
But don't mistake a well-considered splurge with a spending spree you can't afford, warns Alyssa Davies, founder of the personal finance blog Mixed Up Money. That's "what the experts call 'revenge spending.'"
$180 Billion Doesn't Buy What it Used to
Those savings may look significant, but chances are they won't go as far as they once did. That's right, the world in 2021 is more expensive than it was before the pandemic, and you can expect it to stay that way for quite some time.
Already, prices at gas pumps and grocery stores reflect the higher cost of getting goods into our hands. Housing expenses — prompted by more people staying, playing and working from home — have risen significantly, too.
To accommodate this expensive "new normal," we'll need to revisit our budgets, taking these higher prices into account.
"Everyone hates budgeting. Everyone. But budgets are essentially a financial record of your priorities," says Porter.
"A budget helps you use your money towards your goals — and allows you to prioritize what makes you happy."
Money Diet vs. Healthy Spending
One common way people set themselves up for failure is to go on a "money diet," says Bruce Sellery, CEO of Credit Canada Debt Solutions.
That's when you allow yourself a fixed sum for fun and then meticulously track each dollar spent so you don't go over budget.
But counting your pennies while out for dinner with friends is a good way to spoil your fun.
To avoid becoming the killjoy of your social circle, Sellery suggests adopting a frequency budget instead.
"It's way easier to track eating out once per week than to track $400 per month on restaurants," he says.
Step Away from the Shopping Cart
As a rule of thumb, always wait 24 to 48 hours before making an impulse purchase, Porter says. How much do you really need those gold strappy sandals or that luxury wine fridge with humidity control? And can you truly afford it?
If you're shopping online, avoid putting the item in your cart until you've decided to buy, so your social media feeds won't keep serving up ads that taunt you with it.
Then ask your phone to send you a reminder about the item in 24 hours. Delaying the purchase by a day or two gives you enough of an emotional cool-down period to review your budget and reconsider.
Let Your Savings Save Themselves
Make your monthly savings and bill payments automatic. The easiest way to make this happen is through automatic money transfers.
"This way the money is segregated before you have the chance to make impulsive decisions with it," explains Rita Silvan, a chartered investment manager and financial writer, who appreciates the resistance people have to budgeting.
And you might consider making the money a bit harder to access, to address temptation. If you keep it in account that involves extra steps in the withdrawal process, you may be less likely to spend, which – as with all of these tips – helps to ensure you don't buy now, regret later.
---
What Big Item Have You Been Saving Up for? We Asked Around
Many Canadians expect to increase their spending this year, "reflecting pent-up demand resulting from pandemic-related restrictions," according to the Bank of Canada's most recent consumer survey. We balanced their results with what Canadians told us when we asked them: What big item have you been saving up for? Here's what the stats say, along with what we heard.
21.5% of Canadian consumers plan to spend more on travel this year than last
"We're saving for a trip to the Caribbean," says Toronto's Michael Santos, who became a stay-at-home dad during the pandemic. "My toddler loves the beach, and we are looking forward to showing him a 'real' beach – no disrespect to Ontario's great lakes and beaches, but it would be exciting to see the look on his face when he feels the hot white sand at his feet and sees the clear, turquoise water!"
Alyssa Davies and her husband are using a "sinking fund" — a separate account used to save up for one-time or irregular expenses — for an American family vacation in December. Every week, Davies puts $20 into the fund. By December, she and her family will have about $1,000 to put towards their vacation.
12.9% will spend more on shelter
Rita Silvan and her husband decided to use their savings to build a bunkie at their cottage. "So the guest who pulls the short straw doesn't have to sleep on the sofa!"
13% will spend more on health and personal care
"Skincare!" In one word, 47-year-old Jacques Sanders sums up exactly what he plans to spend his pandemic savings on when restrictions start to lift in Saint-Lambert, Quebec.
Spending on self-care — either on yourself or for a family member — appears to be a popular choice with Canadians.
For money columnist Bruce Sellery, the big-ticket spend this year is for his daughter. "Sleep-away summer camp for Abby!" he enthuses. "A huge thing for her."
26.9% plan to spend more on restaurants, cinema and social activities
"Our big spend was on a birthday staycation in Muskoka for two days," says Jackie Porter, Certified Financial Planner. "My birthday happens to fall on the fourth of July and the idea of getting out of our house and someone else cooking for two days made us giddy! We had meals on a patio and stayed in a really comfortable place with a fantastic view. We actually just got back yesterday from our jaunt and it was glorious. Well worth the spend."
This article or video (the "Content"), as applicable, is provided by independent third parties that are not affiliated with Tangerine Bank or any of its affiliates. Tangerine Bank and its affiliates neither endorse or approve nor are liable for any third party Content, or investment or financial loss arising from any use of such Content.
The Content is provided for general information and educational purposes only, is not intended to be relied upon as, or provide, personal financial, tax or investment advice and does not take into account the specific objectives, personal, financial, legal or tax situation, or particular circumstances and needs of any specific person. No information contained in the Content constitutes, or should be construed as, a recommendation, offer or solicitation by Tangerine to buy, hold or sell any security, financial product or instrument discussed therein or to follow any particular investment or financial strategy. In making your financial and investment decisions, you will consult with and rely upon your own advisors and will seek your own professional advice regarding the appropriateness of implementing strategies before taking action. Any information, data, opinions, views, advice, recommendations or other content provided by any third party are solely those of such third party and not of Tangerine Bank or its affiliates, and Tangerine Bank and its affiliates accept no liability in respect thereof and do not guarantee the accuracy or reliability of any information in the third party Content. Any information contained in the Content, including information related to interest rates, market conditions, tax rules, and other investment factors, is subject to change without notice, and neither Tangerine Bank nor its affiliates are responsible for updating this information.
Tangerine Investment Funds are managed by Tangerine Investment Management Inc. and are only available by opening an Investment Fund Account with Tangerine Investment Funds Limited. These firms are wholly owned subsidiaries of Tangerine Bank. Commissions, trailing commissions, management fees and expenses all may be associated with mutual fund investments. Please read the prospectus before investing. Mutual funds are not guaranteed, their values change frequently and past performance may not be repeated.