You have to file a tax return if you either owe tax, or you're owed a refund for overpaid taxes, Canada Pension Plan or Employment Insurance. So use this checklist to help make filing your taxes as efficient and painless as possible.
Download a copy of this checklist here.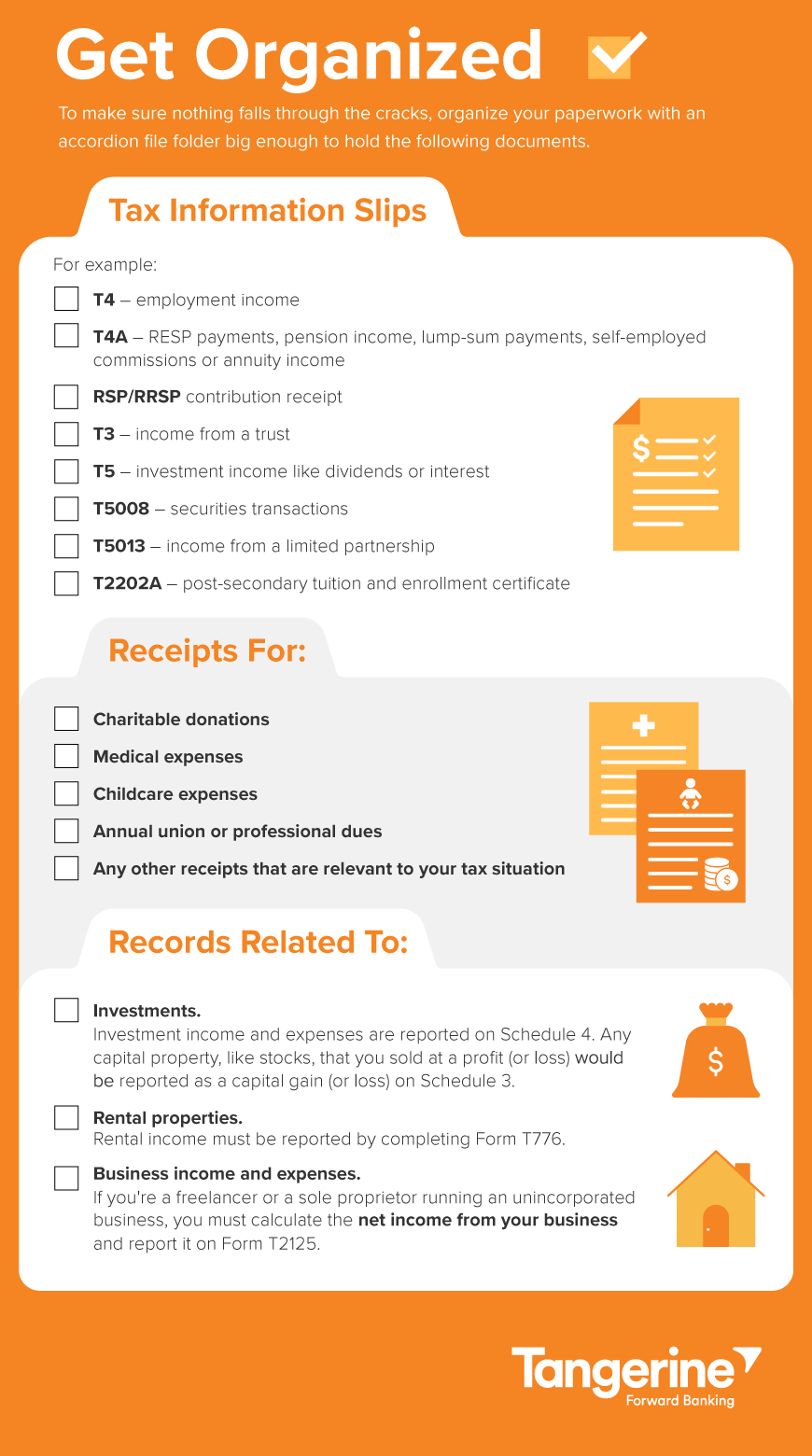 Note Important Deadlines


The deadlines for receiving most tax information slips is the last day of February, except for the T3, which is issued 90 days after a trust's tax year-end. Since February 29, 2020 falls on a Saturday this year, the deadline is actually the next business day, March 2, 2020.
The deadline for contributing to your RSP/RRSP and deducting it on your 2019 return is March 2, 2020.
For individuals (other than trusts), the return filing due date will be June 1, 2020. (However, the CRA encourages individuals who expect to receive benefits under the GSTC or the Canada Child Benefit not to delay the filing of their return to ensure their entitlements for the 2020-21 benefit year are properly determined.)
The CRA will allow all taxpayers to defer, until September 1, 2020, the payment of any income tax amounts that become owing on or after March 18, 2020 and before September 1, 2020. This applies to tax balances due as well as instalments. No interest or penalties will accumulate during this period.


Manage Your Tax Information Online

If you haven't already done so, register with the Canada Revenue Agency (CRA)'s My Account in order to check your RSP/RRSP limit, register for direct deposit, view the status of your return and much more.


Prepare Your Return

Use NETFILE-certified tax software to guide you through the various forms and schedules on the tax return.
Let the information held by the CRA populate into your tax return, and review for accuracy.
Don't feel like you have to complete your tax return all in one sitting. Come back and fill in outstanding information as you receive it.
Don't file until your return is complete, otherwise you may have to file an adjustment.
If your tax situation is complicated, consider seeking the advice of a tax professional, like a CPA.


File Your Return

File online with the CRA using NETFILE, which is fast, easy and secure.
Pay any tax owing or wait for your refund!