Why Investing Today Means Future You Will Thank You
Wednesday, February 3rd, 2021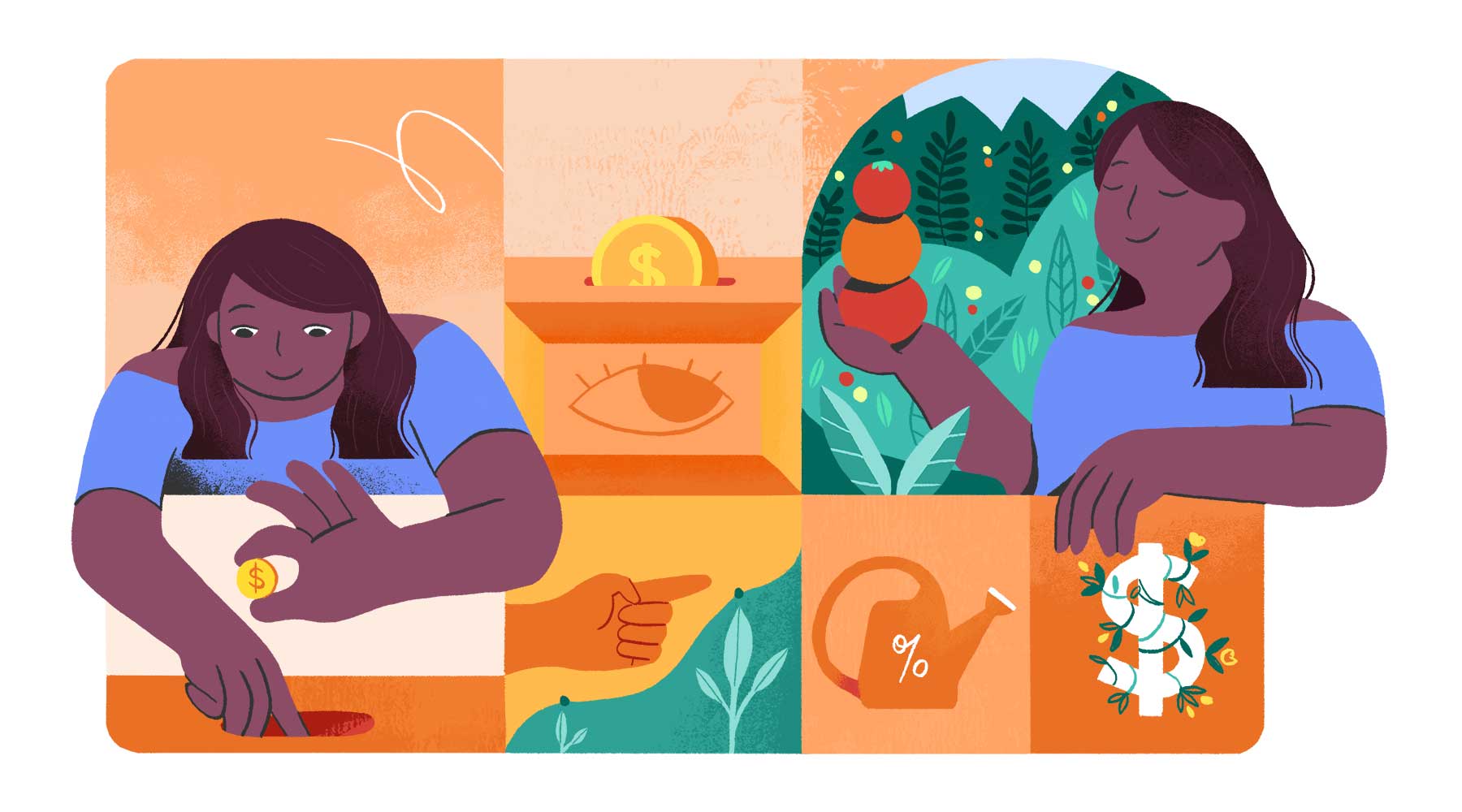 Saving for retirement is likely on most peoples' radar. Even if we don't always do it, we know we should be putting aside some of each paycheque to meet future goals. And these days, if you're working from home, you could even have a little more left over each month that you can add.
But when you're trying to figure out the best way to save and invest for retirement, you might have a lot of questions.
Here's an investing 101 guide to help bring your financial goals within reach.
The Old Rules About Money Need an Upgrade


First things first – if you're stuck on how to get started, you're not alone.
Many of today's investors were brought up with ideas about money rules that don't really work anymore. For example, previous generations might have bought a house pretty early in life, maybe leaving saving for retirement until their 50s, when their kids were grown and gone. And if they had a defined-benefit pension plan, saving for retirement was taken care of for them automatically.
Life looks pretty different today, especially for younger investors. Canadians are spending more on postsecondary education. Especially in Canada's larger cities, home ownership is not as accessible as it was in the past, and some people still have a mortgage into their retirement years. Finally, many people don't have a traditional workplace pension that will automatically set aside funds to provide a steady income during retirement.
There's another reason, too, that saving for the future today looks so different than it did in the past, and that's today's low interest rates. Previous generations could save for longer-term goals like retirement using investments such as Guaranteed Investment Certificates (GICs). However, with interest rates at all-time lows, GICs may not provide the growth people are looking for to reach their financial goals. Ideally, many investors are looking for returns that beat inflation, so they can make better progress towards goals such as saving for retirement.
All these changes mean what worked in the past may not work for you today.
But there's some good news: Even though it might seem like the odds are stacked against you, you actually have more savings options today. Read on for the new financial tips that can unlock financial success for future you.
Tip 1: A Savvy Way to Think About Investing
First, let's straighten out the difference between investment products and investment containers:
An investment container is the type of account you put your money in, like a Tax-Free Savings Account or a Registered Retirement Savings Plan.
An investment product is what you use to fill the container – like a GIC, mutual fund, or ETF, among other choices (don't worry, we'll explain all of these).
When you're ready to make a move, there are lots of different options for containers and products. But before you choose what's best for you, build your knowledge base by understanding how investment containers and products aren't the same.
Unboxing Investment Lingo: What to Know
Here are the main products you can put in your containers:

| | |
| --- | --- |
| Guaranteed Investment Certificates, or GICs | Your money is safe but may not grow much over time when interest rates are low. |
| Bonds | Generally less risky than stocks, but today's low interest rates mean low growth too, making it harder to reach your longer term financial goals. |
| Individual Stocks | Unmanaged investments in single companies. Virtually unlimited choice, which requires your time and attention. |
| Mutual Funds | Professionally managed, with many choices available. Provides access to potential market growth by including stocks from different companies, along with bonds, cash, and "cash equivalents" (like T-Bills) in a single package. Investments come with risk of loss, and investors should read the prospectus before investing. |
| Exchange-Traded Funds (ETFs) | Lower-cost way to access market performance for the long term, also by including many different company stocks, to a variety on indices: some are broad stock markets, some are sector specific, some are bonds. Your direct oversight is usually required to manage your investments over time. Investments come with risk of loss, and investors should read the prospectus before investing. |

Tip 2: Your TFSA is a Superhighway to Meeting your Future Financial Goals
Our second tip is to shine a light on the Tax-Free Savings Account as a fast track to getting your money working for you.
TFSAs can be powerful tools for helping you reach your long-term financial goals. Here's why:
Even though "savings" is right in the account name, the truth is that you can use your TFSA to invest in any of the products above.
Because earnings aren't taxed, your money has more power to grow.
These two features together mean that for many people, the TFSA is a good choice for getting started with investing. Then, with time on your side, the TFSA's superpowers shine. That's because with the ingredient of time, even small amounts can grow very significantly (if you don't believe us, check out this calculator).
Tip 3: Simple Strategies Have the Best Chance of Success
Investing can sound complicated, but there are ways to keep things simple. One way is to combine ETFs and mutual funds into an all-in-one solution that gives you the benefits of both.
ETFs are a low-cost way to access global markets. If you invest only using ETFs, however, there could be a lot for you to manage: ensuring you make regular contributions, selecting the right ETFs that match your investing goals, reinvesting the growth produced by your funds, and adjusting the balance between your ETFs over time to make sure you're still following the approach you selected when you started and continues to produce intended results.
Mutual funds can help make investing much simpler and easier. This means, in turn, you're more likely to stick to your investment strategy. With mutual funds, you can set up automatic contributions, any dividends you earn can be reinvested for you by default, and your investments may be balanced back to your initial risk level if they drift off-course (some mandates may not do it automatically).
For many Canadians, the easiest way to start (and keep) investing is by using mutual funds. While some mutual funds hold individual stocks and bonds directly, others use a mix of specific ETFs. When you choose a mutual fund that holds ETFs, you get two main benefits:
You get an ETF portfolio that's diversified, even globally diversified, at low cost
Because the ETFs are held in a mutual fund, you don't need to research, buy, sell, and rebalance the individual ETFs yourself
Three Lessons for Canadians New to Investing
Here are three top lessons for Canadians who want to get started with investing:
1. You don't need many different investment products. Instead, you can choose just one product and get your needs met. All-in-one solutions can take away the pain-point of "how do I choose?"
2. Once you understand the benefits of ETFs, you may want them in your portfolio. People may think an ETF is just one stock, instead of a whole basket. Getting this straight is a good point of learning.
3. Many of today's investors are fee-conscious and want value for money. ETFs usually cost less than the alternatives, meaning a strategy that includes ETFs is a perfect fit for someone who isn't a savvy investor and might be worried about spending too much in managing fees.
Putting Your Plan in Action
You already know you should save for the future. If you've been hesitating, our tips are designed to get you in motion – and with $6,000* of new TFSA room effective January 1, 2021, there's no better time to get started than now.
Use these tips – understanding the difference between investment products and containers, getting started with a TFSA, and considering using an investment strategy that gives you a simple and automatic way to benefit from convenience, global diversification and low cost – to support your long-term financial success.
*Annual limit based on legislation current as of January 1, 2020, subject to potential future change
This article or video (the "Content"), as applicable, is provided by independent third parties that are not affiliated with Tangerine Bank or any of its affiliates. Tangerine Bank and its affiliates neither endorse or approve nor are liable for any third party Content, or investment or financial loss arising from any use of such Content.
The Content is provided for general information and educational purposes only, is not intended to be relied upon as, or provide, personal financial, tax or investment advice and does not take into account the specific objectives, personal, financial, legal or tax situation, or particular circumstances and needs of any specific person. No information contained in the Content constitutes, or should be construed as, a recommendation, offer or solicitation by Tangerine to buy, hold or sell any security, financial product or instrument discussed therein or to follow any particular investment or financial strategy. In making your financial and investment decisions, you will consult with and rely upon your own advisors and will seek your own professional advice regarding the appropriateness of implementing strategies before taking action. Any information, data, opinions, views, advice, recommendations or other content provided by any third party are solely those of such third party and not of Tangerine Bank or its affiliates, and Tangerine Bank and its affiliates accept no liability in respect thereof and do not guarantee the accuracy or reliability of any information in the third party Content. Any information contained in the Content, including information related to interest rates, market conditions, tax rules, and other investment factors, is subject to change without notice, and neither Tangerine Bank nor its affiliates are responsible for updating this information.
Tangerine Investment Funds are managed by Tangerine Investment Management Inc. and are only available by opening an Investment Fund Account with Tangerine Investment Funds Limited. These firms are wholly owned subsidiaries of Tangerine Bank. Commissions, trailing commissions, management fees and expenses all may be associated with mutual fund investments. Please read the prospectus before investing. Mutual funds are not guaranteed, their values change frequently and past performance may not be repeated.