Mobile banking
Now you can Save Anywhere™ with your smartphone at tangerine.ca or through our mobile banking app. You can check your Account balances, review transactions, transfer funds, locate ABMs, pay bills, buy and sell Tangerine Investment Funds and get info on our Tangerine Cafés. You can even deposit a cheque with Cheque-In™.
Manage your Accounts
Check Account balances
Pay bills
Review transactions
Transfer funds
Email money
Deposit a cheque with Cheque-InTM
Reset your PIN
Access our Refer a Friend program
Save with Small Sacrifices
Sign up for new Accounts
Buy & sell Tangerine Investment Funds
Check our rates
Access our mortgage tools
Get directions and hours for Tangerine Cafés
Receive Orange Alerts and view your Orange Snapshot
Follow us on Twitter®: @TangerineBank, @PeterAceto
Apple iOS
Android
Blackberry
Windows
Highlighted Features
The Tangerine Mobile Banking app is one of the first apps available for the Apple Watch, making your banking experience more convenient than ever before. Receive important notifications, view your Account balances, and review transactions – all through the simple Apple Watch interface. It's a whole new way to do banking on the go. Works with iOS 8+TM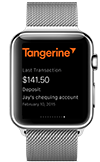 Now you can deposit a cheque just by using your smartphone.
Cheque-In is the easiest and fastest way to deposit a cheque. No line ups or bank branches. You simply snap a photo of your cheque, enter a few details and voila - the cheque is deposited into your account. It's that easy.
The next time someone hands you a cheque, don't just jam it into your wallet – deposit it on the spot with Cheque-In.
Want to learn more? Read our Cheque-In FAQs.
---
Think you might be able to pass on a coffee today? Considering a home-packed lunch instead of eating out? Since you'll be saving a little money because of that decision, move the cash over to your Savings Account instantly.
With Small Sacrifices, you're transferring small amounts of money over to your Savings Account little by little, quickly and securely – and we'll even show you how much your little sacrifice will add up to over time.
Touch ID is now available on iOS 8 enabled devices on iPhone® 5S and above. By recognizing your fingerprint, the technology can add an extra layer of security when you log into the Orange Snapshot feature on our Mobile Banking app.
We're the first Canadian bank to introduce biometric technology, and we've been very excited to provide a glimpse into what the future of banking in Canada will look like. As a Tangerine Client, you can look forward to new and innovative ways to gain even more control over your banking experience.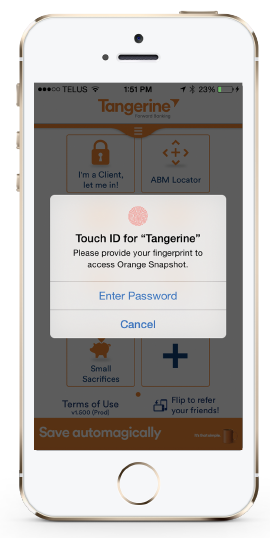 ---