Mobile banking
The Tangerine Mobile Banking app makes your banking experience more convenient than ever before. Manage your Accounts, review transactions, transfer funds, locate ABMs, receive important notifications or even chat with one of our Associates – all through the Mobile Banking App. It's a perfect way to do banking on the go.
Enroll in a new Chequing, Savings, Credit Card or Investing Account
Manage your Accounts
Check Account balances
Pay bills
Review transactions
Transfer funds
Email money
Deposit a cheque with Cheque-In®
Identify yourself using innovative and simple login options
Change your PIN
Access our Refer a Friend program
Buy & sell Tangerine Investment Funds
Check our rates
Access our mortgage tools
Get directions and hours for Tangerine locations
Receive Orange Alerts
Aside from the devices listed under the Devices tab, these features should work on any smartphone or tablet capable of downloading the most current version of the Tangerine Mobile Banking app.
Features
Check your Account balances, review transactions, pay bills, email money, buy and sell Tangerine Investment Funds and get info on our Tangerine Locations all with a single touch. Simply swipe to transact with your Account. You can even deposit a cheque using your smartphone or tablet with our Cheque-In® feature.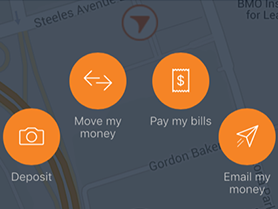 Cheque-In is the easiest and fastest way to deposit a cheque. No lineups or bank branches. You simply snap a photo of your cheque with your smartphone or tablet, enter a few details and voilà — the cheque is deposited into your Account. It's that easy.
The next time someone hands you a cheque, don't just jam it into your wallet – deposit it on the spot with Cheque-In.
Want to learn more? Read our Cheque-In FAQs.
Access to your banking information is simpler than ever. Get the information you need quickly, when you need it, so that banking on the go is a breeze – and all with a single touch.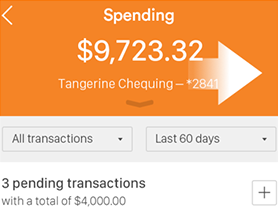 Choose how you'd like to receive alerts so you can always stay on top of your money. Doing your banking with multiple devices? Not a problem! Have your notifications go to each of your devices and stay up-to-date wherever you are.
ID Yourself with your Fingerprint, Eyeprint, or Voiceprint
You can now use Touch ID® on your Apple device to log in and have full access to your Accounts through the Mobile Banking app. Using the Quick View option, which gives you limited access and only asks you for your PIN when it's absolutely needed, you can also identify yourself using Vocal Password or EyeVerify. As a Tangerine Client, you can look forward to future banking with even more new and innovative ways to gain control over your banking experience.
Touch ID on Apple devices allow you to identify yourself by recognizing your fingerprint and give you full banking access.
With Vocal Password you identify yourself using your voice for Quick View access.
With EyeVerify you identify yourself using your eyes, capturing an eyeprint from your eyes' unique vein patterns for Quick View access.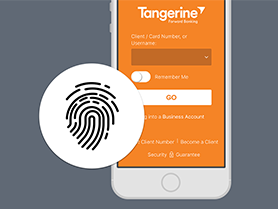 ---