Tangerine News
Introducing Tangerine News
We thought our Client newsletter needed a bit of freshening up, so as you may have noticed, we've given it a new look and a new name.
We're pleased to present you with the first issue of Tangerine News, where you'll be able to read all about:
What we're up to in the community

New Account features

Current offers and promotions

Financial tips and information

News from our Cafés

And more!
We'd love to know what you think about the new newsletter design. And if you have any requests for the kinds of information you'd like to read in Tangerine News, please let us know. You can share your feedback with us at forwardbanking@tangerine.ca
Share the rewards of Forward Banking
For you: $50 for each referral, up to $2,000†
Give your Orange Key to your friends and family so they can experience the rewards of simple everyday banking with Tangerine. They'll save on fees, earn great interest and enjoy more Bonuses than ever before.
You'll get a $50 Bonus when someone you refer becomes a Client by opening a new Tangerine Chequing Account or Tangerine Savings Account with a minimum deposit of $250 by July 31, 2014. That's double our regular referral Bonus. You could earn up to $2,000 in Bonuses.
Don't forget, you can share your Orange Key with your friends using email, the Tangerine Mobile Banking App, Facebook® and Twitter®. Find your Orange Key.
For them: up to $150 in Bonuses when becoming a Client through Refer A Friend or our Tangerine 150 promo.**
These are the Bonuses your friends and family can enjoy by signing up with Tangerine. Remember, you can also earn these Bonuses if you don't already have a Tangerine Chequing Account with pay deposits or a Tangerine Savings Account.
$50* cash Bonus when you open your first Tangerine Savings Account by July 31, 2014, with a minimum deposit of $250.
$50* cash Bonus when you open your first Tangerine Chequing Account by July 31, 2014, with a minimum deposit of $250.
$50* cash Bonus when you switch your pay deposits to your Tangerine Chequing Account by August 31, 2014.
Plus, you and your friends will earn 2.50%* interest on new savings deposits you make between now and July 31, 2014, to a Tangerine Savings Account, RSP Savings Account, RIF Savings Account or Tax-Free Savings Account.
Pointers for Navigating tangerine.ca
Have you had a chance to explore our new Tangerine website? Here are a few pointers to help you quickly get where you need to go:
And now, we also have a new and simpler process for adding a new external account link:
To add a new external account link, once you log in, click "My info and options" in the left side of your screen. Then go to "Links to external accounts". Click the "Add account" button, and you'll be able to enter the information for the account you'd like to add. Now you no longer need to send us a cheque for that new account. Instead, you'll be asked to confirm two small deposit amounts that we'll put into that account for you. We'll take you through the process once you add your account info online – it's super simple!
If you ever need help, remember that we're only a phone call away. You can reach us at 1-888-826-4374 anytime - 24 hours a day, 7 days a week.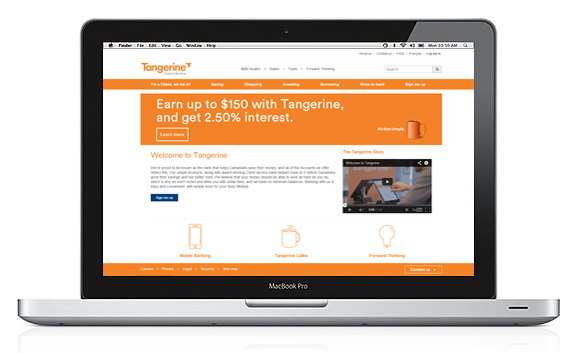 Automatic savings is the key to success
Imagine it was December 31st and you received a letter from the Canadian Revenue Agency (CRA) asking for $10,000 to cover your income taxes owing for the year. Most people would freak out (understandably). Luckily, that doesn't happen for the average Canadian because taxes are deducted at source – which is a fancy way of saying that income taxes are deducted from your paycheque all year long.
Because it's taken in little bits throughout the year, we don't have a problem paying that large tax bill. The bill is being paid automatically for us.
When it comes to saving for the future, we can learn a real lesson from this. If we've determined that we should be saving $5,000 per year, it's almost impossible to do if we leave it until the end of the year. Most of us simply can't come up with $5,000 in cash at the drop of a hat. But, if we contribute small amounts regularly throughout the year, it can be relatively easy to save large amounts. The difference between income taxes and savings is that no one is forcing us to save money. We have to make it automatic ourselves by setting up an automated transfer from our chequing account to our savings account.
The best way to do this is to again take a page right out of the income tax playbook. Since taxes are taken off each paycheque before we even see it, we don't have the opportunity to spend that money. We can create the same effect by coordinating an automatic transfer to our savings account that occurs on pay day.
Let's say you decide to save 15% of your gross income (which is what many experts recommend). Gross income means your pay before taxes. If you earn $50,000 per year before tax, that means you plan to save at least $7,500 a year. To do that, simply divide $7,500 by the number of paycheques you receive per year. If you get paid once every two weeks, that's 26 paycheques in total. $7,500 divided by 26 = $288.46 set aside from each paycheque. Over 10 years, in a savings account paying 1.5% interest, you'll have saved more than $80,000.
This article also appears under 'Savings Articles' in the new Forward Thinking section of our website. Read more about saving and other personal finance topics at fowardthinking.tangerine.ca.
Tangerine Chequing & the Tangerine Client Card
What are the advantages of having a Tangerine Chequing Account? Take a look:
Pay no fees for daily chequing

Earn interest on every one of your hard-earned dollars

Deposit cheques instantly using your smartphone or tablet

Stay on top of your money with free email alerts

Send and receive money by email for free

Get your first book of 50 cheques for free
Plus, with a Tangerine Chequing Account comes a Tangerine Client Card. Your Card gets you free ABM deposits and withdrawals at nearly 4,000 ABMs across Canada, through the Scotiabank ABM Network1, including those at Shell, 7-Eleven, Quickie convenience stores, Cineplex Theatres and Couche-Tard. And unlimited debit transactions using your Tangerine Client Card are also free.
Open a Tangerine Chequing Account today.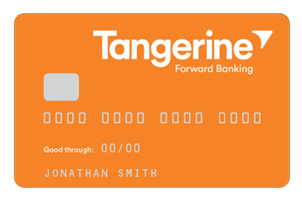 Will Play Hockey for Food
Five Hole for Food is an annual coast-to-coast tour playing hockey throughout the month of July to support food banks across Canada. As part of our ongoing commitment to make a difference in our communities, Tangerine is sponsoring Five Hole for Food again this year, helping to collect donations across the country.
How can you get involved? Visit any one of our Tangerine Cafés to drop off non-perishable food items leading up to the day the tour stops in that city:
Montreal, QC – July 8, 2014
Toronto, ON – July 10, 2014
Calgary, AB – July 15, 2014
Vancouver, BC – July 19, 2014
The complete tour schedule including game locations is available here.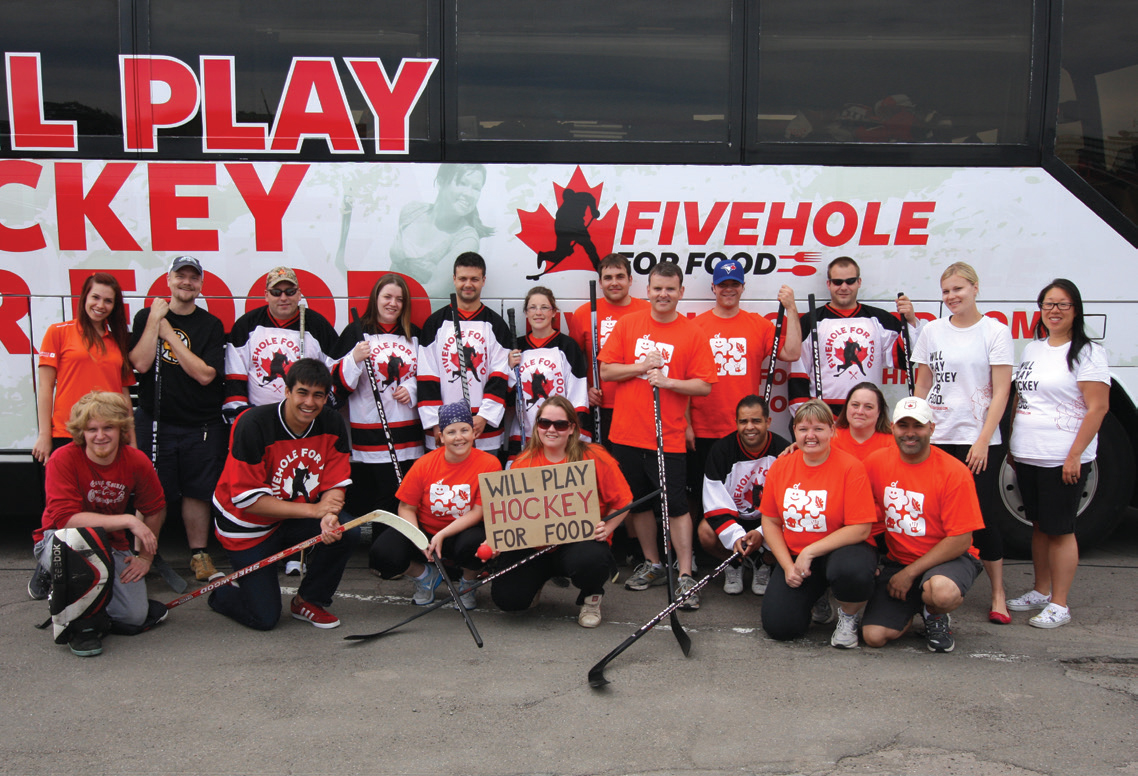 Tangerine Cafés: New Name, Same Great Experience
Tangerine Cafés are designed to help Canadians make their own financial decisions, without line-ups, tellers or pens on ropes. We believe that conversations about money shouldn't be complicated; they should be as easy as enjoying a cup of coffee with friends. Drop by the Tangerine Café nearest you or connect with us online to see what we're all about.
Savings Tip
To prevent being caught off-guard by back-to-school spending needs, why not start an Automatic Savings Program for school purchases? By regularly moving a bit of money to your Savings Account automatically starting now, you'll find you can build up a nice savings before school starts. And the money will be set aside all on its own.
Did you know?
The 2013-14 World Economic Forum Global Competitiveness Report rated Canada as the most sound banking system in the world. This was the 6th year in a row that Canada achieved the #1 ranking.