Tangerine News
Happy New Year!
The beginning of a new year is a perfect time to reflect on what we've accomplished over the past year and reaffirm where we're headed.
Looking back at 2014, a few noteworthy achievements stand out. For example, we received some awards and recognition that we're very proud of. These included seven Ipsos 2014 Best Banking Awards; the number 1 ranking in Digital Excellence in a new Ipsos Reid study; and achieving the ranking of "Highest in Customer Satisfaction Among the Midsize Retail Banks" in Canada in the J.D. Power Canadian Retail Banking Customer Satisfaction Study*.
While these awards are exciting accomplishments for us, what matters most is providing an exceptional experience to you, our Clients.
When you take the time to refer your friends and family to Tangerine, we see this as a sign that your banking experience with us is one worth sharing, and a show of trust that we will take care of the people who matter to you. In 2014, over 110,000 Canadians started banking with us, and roughly 60,000 of them joined through our Refer a Friend program. Thank you for your confidence in us and for your referrals – we truly appreciate it and we won't let you down.
This past year was exceptionally busy. We changed our name, redesigned our website, and ran many promotions and offers. With all of this activity, keeping a clear focus on our corporate values was very important. But while values are important, they can be a bit abstract.
To help ensure our values always come across in our actions, we wanted to commit to something more – something stronger. And for all of us at Tangerine, there is nothing more powerful and important than making – and keeping – a Promise. So, we have chosen to live by 4 Promises.
The Tangerine Promises are: We Dare, We Care, We Share and We Deliver. We've posted them on our website so that it's easy for you to understand our commitment to you. In every interaction you have with us, we'd like you to ask yourself, "Did Tangerine keep their Promises to me?" And if we didn't, we need you to let us know.
Looking ahead, you'll see some exciting innovations coming in 2015, and we're working on new plans to bring you banking experiences that you may never have imagined possible. I can't wait to share them with you!
Thank you again for placing your trust in us. I wish you and your family all the very best for 2015.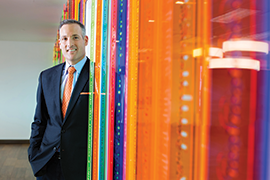 RSP & TFSA contribution limits
RSPs and Tax-Free Savings Accounts (TFSAs) are both great tools to help you save for your financial goals. RSPs are designed for your retirement savings, and TFSAs can be used for any long-term or short-term savings goals.
Contributing as much as you can to these plans is smart, but it's also important to make sure you stay within your contribution limits. If you over-contribute to either your RSP or your TFSA, the Canada Revenue Agency (CRA) may charge a tax on the over-contribution. Generally, this tax is 1% per month for each month that the excess amount remains in the plan.
For RSPs, there is a "grace" amount of $2,000, so if you have only gone over your contribution limit by $2,000 or less, then tax is waived. However, there is no grace given on TFSA over-contribution. The tax applies to the first $1 of over-contribution.
RSP Limit
The maximum amount you can contribute to RSPs is calculated based on your earned income. Your limit for 2014 can be found on the Notice of Assessment that you received from the CRA after you filed your 2013 income tax return. There is a maximum for each year (this is $24,270 for 2014), however if you haven't made maximum contributions from past years, the contribution room can be carried forward.
TFSA Limit
From 2009 to 2012, the maximum amount you could contribute to TFSAs was $5,000 per year (for all of your TFSAs combined). In 2013, the limit increased to $5,500 per year. Unused contributions can be carried over to future years, so if you've never contributed to a TFSA, then in 2015 you can contribute a total of up to $36,500. If in any year you withdraw money from your TFSA, then that money can be re-contributed in the following year. So if you made a withdrawal in 2014, you can put that amount back in during 2015, on top of your annual $5,500.
More information about contributions to RSPs and TFSAs can be found on the CRA website: cra-arc.gc.ca.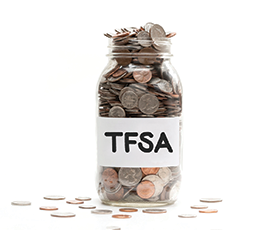 Mark your calendars for these important dates!
Deadline to make RSP contributions for 2014 is March 2, 2015. Deadline for filing 2014 tax returns is April 30, 2015.
Receipts will be ready as follows:
2014 RSP Balance of Year RSP Contributions by week of January 12, 2015.
T5 Statement of Investment Income receipts by week of January 19, 2015.
T4RSP Statement of RSP Account Income (including HBP and LLP) by week of January 19, 2015.
RL-3 Statement of Investment Income for Quebec Residents by week of January 19, 2015.
RL-2 Statement of RSP Account Income (including HBP and LLP) and from Registered Retired Income Fund (RIF) for Quebec Residents by week of January 19, 2015.
NR4 Statement of Amounts Paid or Credited to Non-Residents by week of January 19, 2015.
Receipts for RSP contributions made in the first 60 days of 2015, starting week of January 26, 2015 and every two weeks thereafter until March 31, 2015.
T4RIF Statement of income from Registered Retired Income Fund (RIF) by week of January 19, 2015.
Save some trees and say goodbye to clutter by going paperless! When you switch to electronic receipts, you'll even get them online a few days before you would receive the printed versions, which means less waiting. Log in today to switch to electronic receipts.
Will I receive a tax receipt?
For Savings Accounts and Chequing Accounts, you will only receive a tax receipt if the Account(s) earned interest of $50 or more in 2014.
For Tax-Free Savings Accounts (TFSAs), you will not receive a tax receipt, since all interest earned is tax-free.
For Retirement Savings Plans (RSPs), you will receive Contribution receipts outlining what you've contributed to these Accounts.
For Business Savings Accounts, you will not receive a tax receipt. Please print your statements and provide them to your accountant.
Investing 101: The difference between debt, equity and cash
Some people like climbing mountains. Others would prefer taking a gondola to the peak. And then there are people who would be quite happy to simply see a photo because they just don't like heights.
Everyone has his or her own risk tolerance and when it comes to the world of investing, it's no different.
To draw a simple analogy, a mountain climber might prefer a portfolio with a heavy allocation to stocks, also known as equities. The middle of the road investor might like a balance with less exposure to equities, and more exposure to bonds, also known as debt. And a nervous Nellie might prefer most of their portfolio in easily accessible cash in a high-interest savings account or GIC.
"Equities," "debt," and "cash" are the three main asset classes of investing. In the broadest definition, an asset class is made up of a group of investments that are expected to behave similarly.
Equities offer the potential of the highest reward, but come with the highest risk, too. Over long periods of time, they have a greater chance of making your money grow at a faster rate, but the trade-off is the possibility of a very bumpy ride. A portfolio with heavy allocations to equities can expect to have years of impressive gains as well as years of uncomfortable losses.
Debt investments, such as bonds, tend to be a bit more middle of the road. The potential return rate isn't as high, but the ride is a bit smoother.
Cash is the easiest asset class to understand. Cash is normally held in the form of a GIC, chequing or savings account, or any other type of product that is low risk, low return, and easily accessible on short notice. Cash won't make you rich overnight, but you won't experience large drops in value either.
With all three types of asset classes, it's important to keep in mind that the higher the expected return, the higher the risk. The right overall portfolio for you will include a combination of all three asset classes tailored to your individual taste. Some people are comfortable with risk and may want the chance to earn higher potential returns. Others may have trouble sleeping at night if there is any significant volatility in their portfolios and may prefer heavier weightings to cash and fixed income.
This article also appears under 'Investing Articles' in the new Forward Thinking section of our website. Read more about investing and other personal finance topics at forwardthinking.tangerine.ca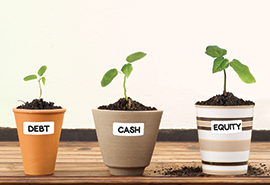 Win automagically
If you have an Automatic Savings Program (ASP) set up for your Tangerine Account, then you've probably seen how easy it is to grow your savings when money gets put aside automatically. Little by little, it really adds up all on its own – almost like magic!
Now, with our ASP Contest, you can have the chance for even more money to "automagically" appear in your Account!
For every $25 of ASP deposits into your Account, (including RSPs and TFSAs) you get a ballot into our monthly draws for cash prizes. The higher your ASP amount, the more ballots you earn. Ballots began being awarded on November 24, 2014, so if you've had an ASP of $25 or more since then, you've already been earning ballots*.
Each month until November 24, 2015, we'll be drawing for 3 cash prizes of $1,500. Then at the end of the contest next November, we'll draw for 1 grand prize of $50,000. So far, since November 24, 2014, we've given away $1,500 to each of 6 lucky winners. Ballots earned will carry over from month to month, which means you get lots of chances to win!
The sooner your ASP is in place, the greater your chances of winning, so don't wait to get in on the action. Set up or increase your ASP today by logging in and hitting "Start an ASP" under the Account you want your ASP to go to.
The future of banking
On October 1st, our Downtown Toronto Café hosted an event called the Future of Banking, where we unveiled brand new biometric technologies for our Mobile Banking app. Local members of the media, partners, social media followers and Clients attended in person, and viewers in other regions watched through live stream.
Speakers at the event were Peter Aceto, our President and CEO, Charaka Kithulegoda, our Chief Information Officer, and Julie Ask, co-author of the book The Mobile Mindshift.
Attendees and live stream viewers had the opportunity to get a sneak peek at Voice Banking and Touch ID™, technologies that make it possible to bank with your voice and log in with the added security of your fingerprint.
Touch ID is now available on iOS 8 enabled devices on iPhone® 5S and above. By recognizing your fingerprint, the technology can add an extra layer of security when you log into the Orange Snapshot feature on our Mobile Banking app.
With Voice Banking, you'll be able to interact with the Mobile Banking app using your voice. The feature will answer questions and provide information such as Account balances and transaction details. You'll even be able to give instructions such as sending Email Money Transfers or paying bills. While Voice Banking is currently in beta, it will be available on the iPod Touch, iPad and iPhones running iOS 6 and above in 2015.
We're the first Canadian bank to introduce biometric technology, and we've been very excited to provide a glimpse into what the future of banking in Canada will look like. As a Tangerine Client, you can look forward to new and innovative ways to gain even more control over your banking experience.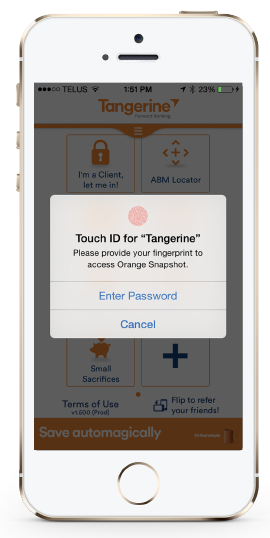 Savings Tip
Here's something to consider during the winter months:
Cleaning or replacing your furnace air filter every 2-3 months can extend the life of your heating system and improve the efficiency of your furnace, which can save you money on home heating costs.
Did you know?
An RSP loan can be a great way to top up your RSP contribution, in case you need a little boost to reach your maximum. Use your tax refund to pay back the loan right away and to keep the interest on the loan manageable.

A recent Tangerine study found 30% of Canadians reported that they could not handle more than $500 in unexpected expenses without going into debt.**