Steve Nash
Two-time NBA MVP, General Manager of Canada senior men's national basketball team
"Tangerine's support will help us provide skills, teamwork and leadership coaching to more than 15,000 kids in communities across Canada. By teaming up with Canada Basketball and all of these incredible charities, there's no doubt this initiative will help inspire and make a positive difference in the lives of countless Canadians by giving them a Bright Way Forward."
See how we're helping to empower more than 500,000 Canadians
​Tangerine is committed to providing financial resources and volunteer hours to help our partners effectively deliver programs and initiatives that inspire self-confidence, leadership, belonging and acceptance. We believe that optimistic individuals who feel empowered to take positive action in their lives will help form the backbone of strong communities - creating a bright way forward, today and tomorrow.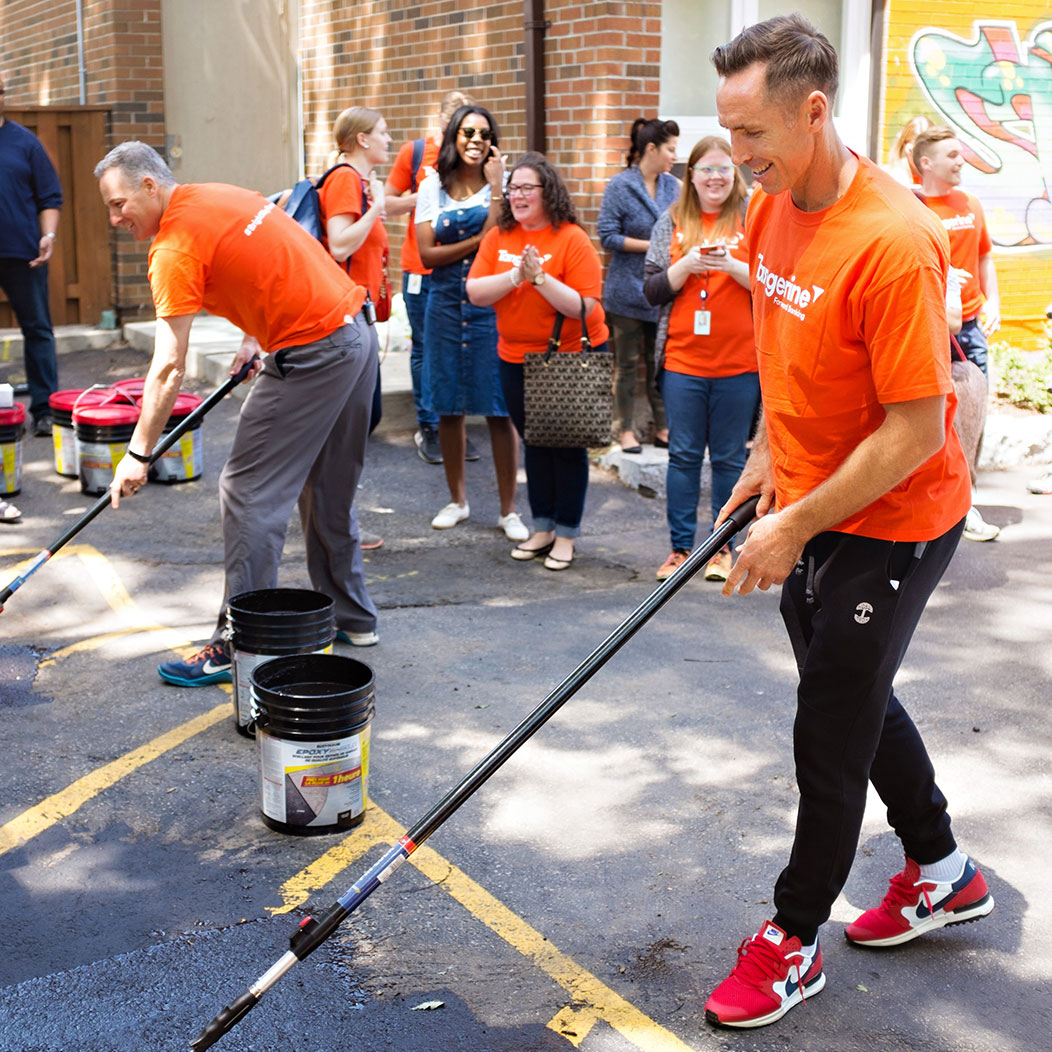 The Road to a #BrightWayForward
On June 10, 2016, program ambassador Steve Nash boarded a bus full of Tangerine employee volunteers for a city-wide tour called 'The Road to a #BrightWayForward'. This special day saw the group pay visits to three local charity partners – ACCES Employment, FoodShare and Youth Without Shelter – to lend a helping hand and highlight the importance of community volunteerism.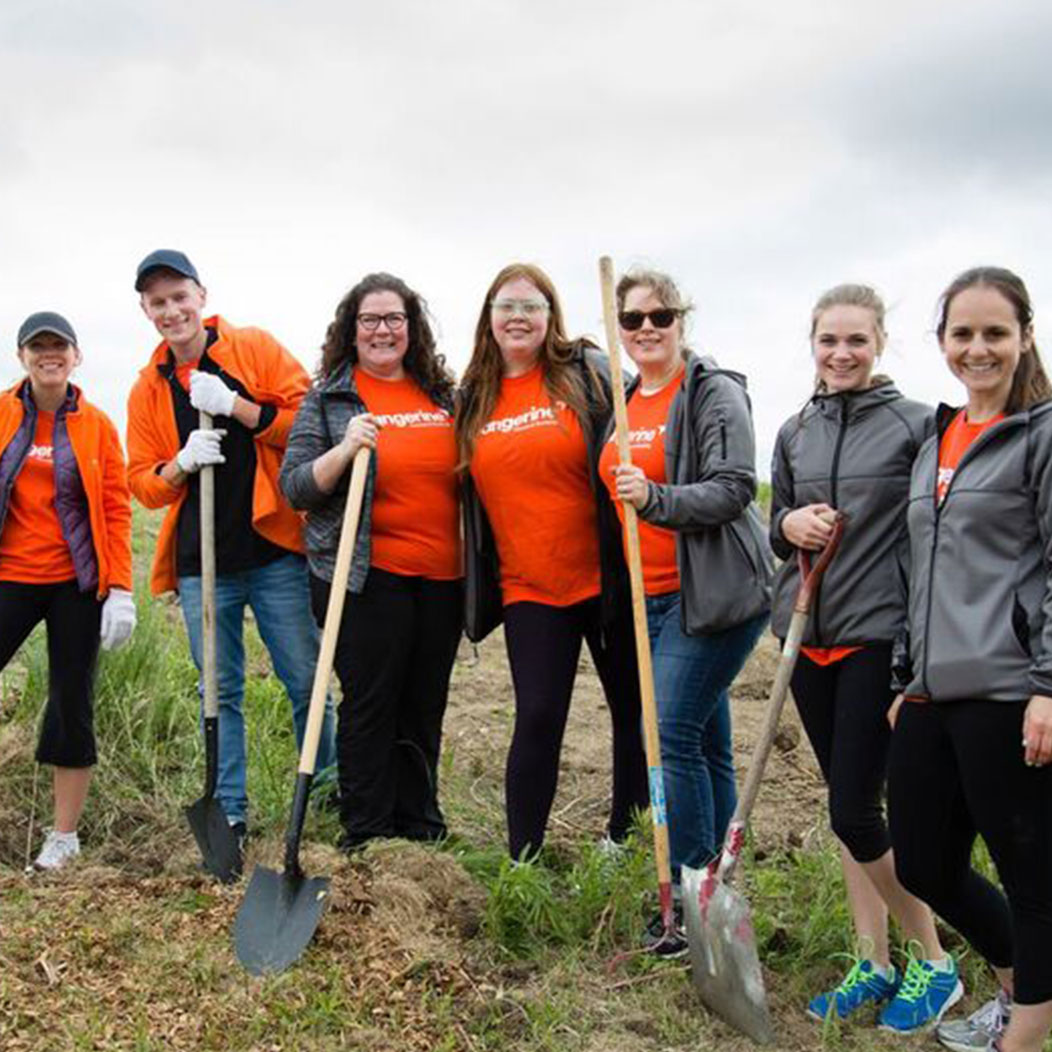 YMCA Camp Cedar Glen Friends & Family Event
On June 8, 2016, close to 175 Tangerine employees and their friends and family helped prepare YMCA Camp Cedar Glen for the summer camp session. Our youngest volunteers had a lot of fun doing archery, wall climbing, learning how to build a shelter and going on a nature walk. It was a rewarding day for these 6- to 13-year-olds.
Vancouver Community Gym
Tangerine Community Gyms give young Canadians the chance to learn new skills, build self-confidence, practise teamwork and demonstrate leadership. On May 15, 2016 , together with Canada Basketball and UNITY Charity, 160 Vancouver area kids participated in this fun and empowering half-day experience of basketball and life skills.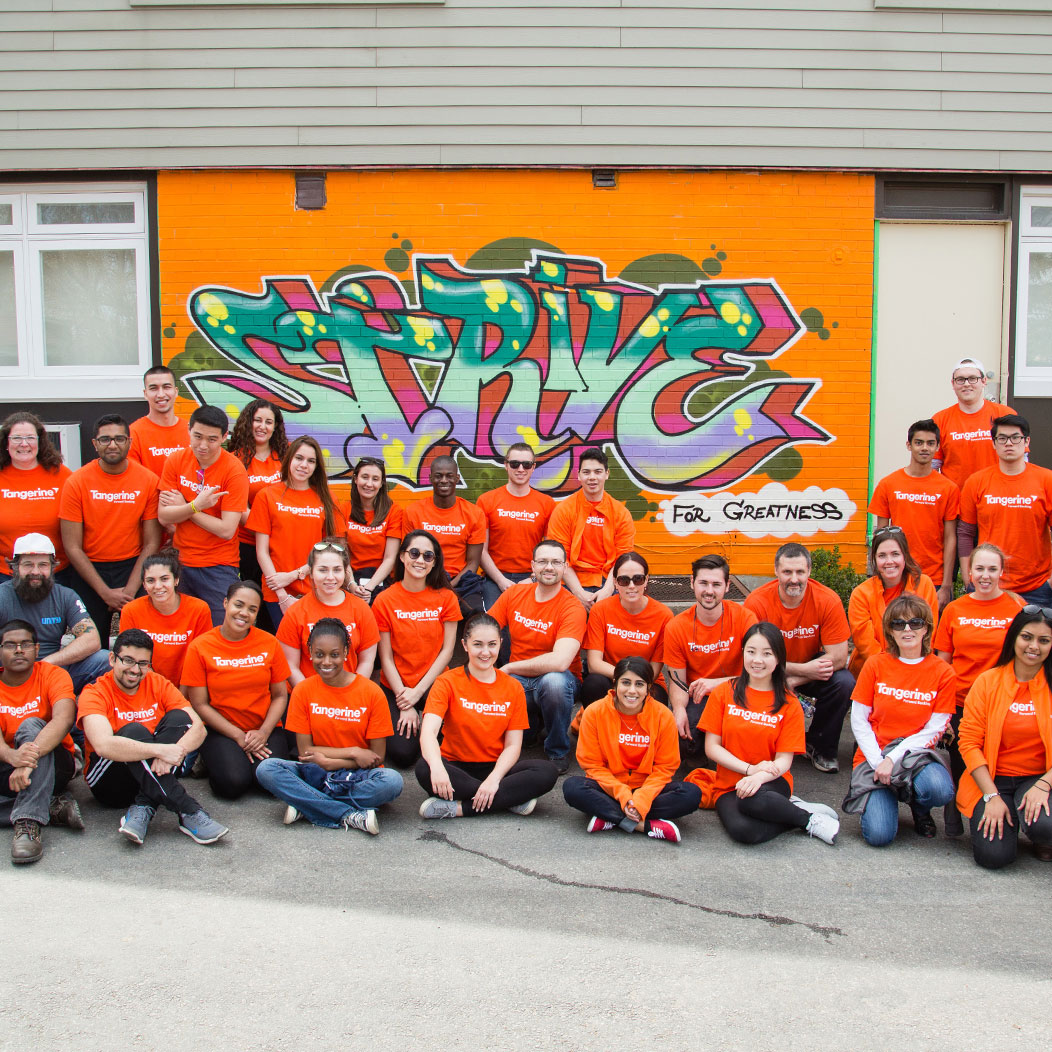 Youth Without Shelter Mural Project with UNITY Charity
For homeless young people, Youth Without Shelter (YWS) provides a safe haven. On May 4, 2016, Tangerine staff, alongside UNITY Charity – another #BrightWayForward partner – transformed the outdoor space of the YWS house with an amazing mural designed by the youth of YWS.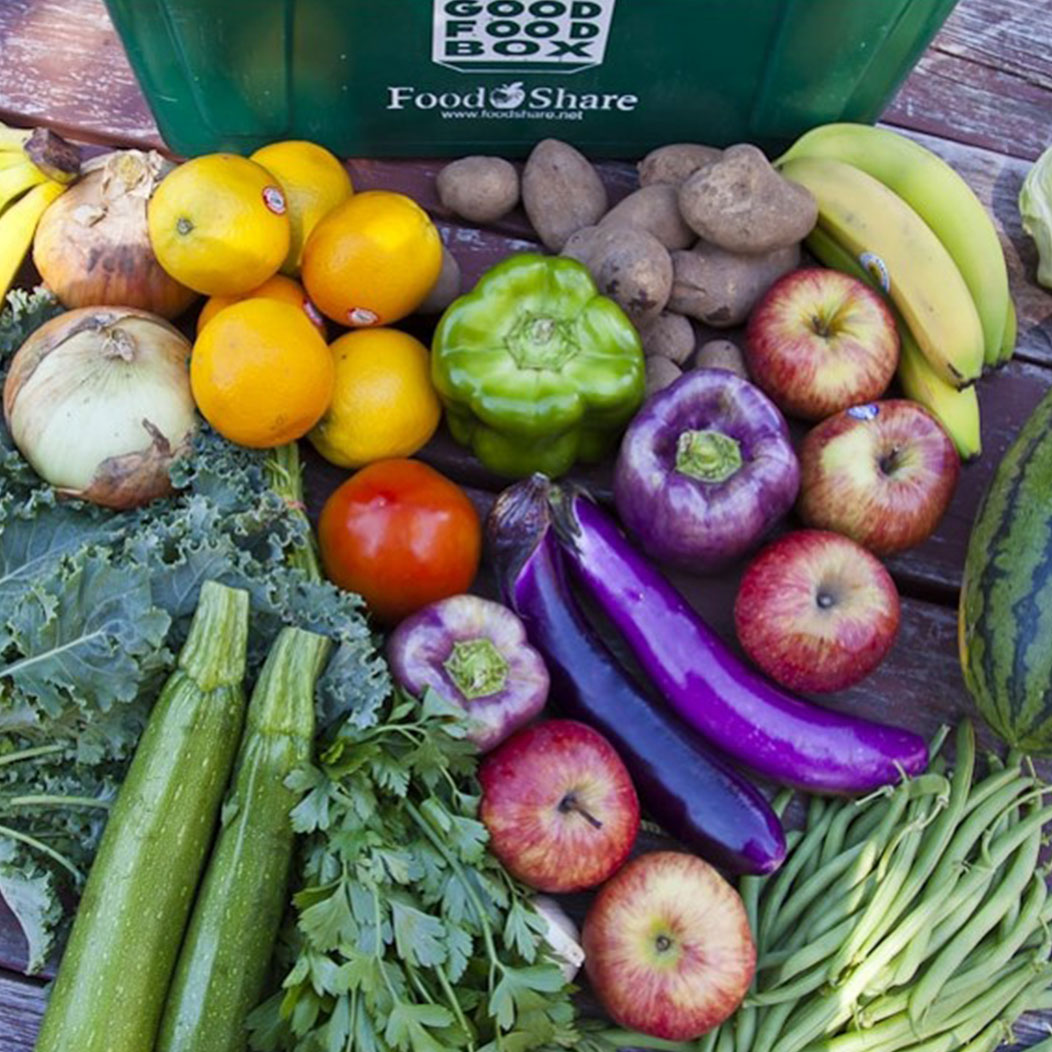 FoodShare Good Food Box Program
The Good Food Box program is a subsidized fresh produce distribution program in Toronto that features locally grown seasonal products whenever possible as well as international favourites, at a price that is more affordable than retail stores. In May 2016, our Toronto office became a location for this program. Staff can purchase food boxes directly through the office program.
Recipe for Change
The tastiest way to promote healthy food and food literacy in schools, Recipe for Change is FoodShare's annual signature fundraising event. Among the hundreds of ways FoodShare moves their mission forward, Recipe for Change is a chance for participants to connect, celebrate and savour. The event features over 30 sweet and savoury dishes made with love by some of the city's best chefs in an intimate setting. This year the event raised $106,000 that will benefit FoodShare programming development and delivery to the local community.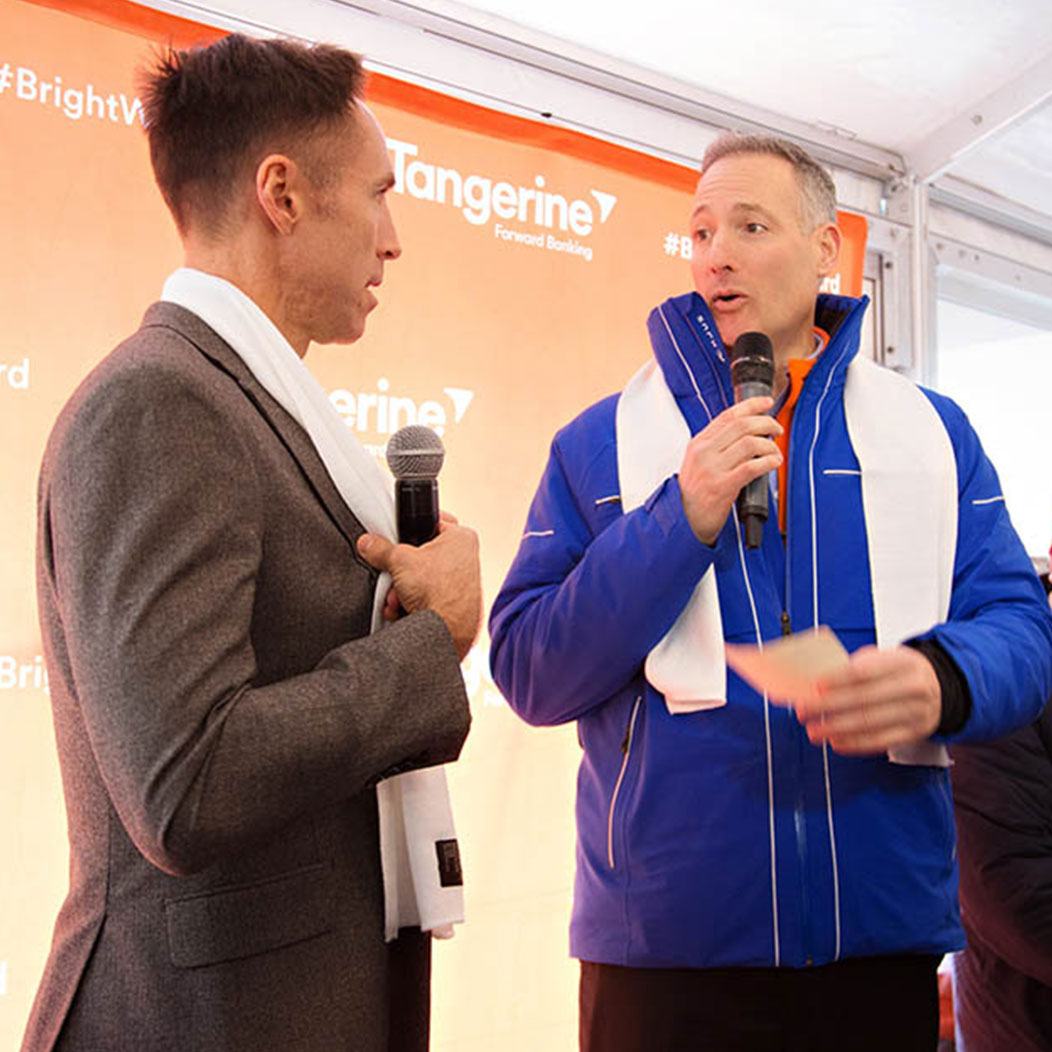 Steve Nash Assist
Steve Nash joined the Tangerine team at Toronto's Yonge-Dundas Square on February 11, 2016 to celebrate the launch of our Steve Nash Assist program, in support of Tangerine's #BrightWayForward partner Steve Nash Youth Basketball. From February 11 to March 31, new Clients received a $50 Bonus for opening a Tangerine Account, and Tangerine also donated $50 to the program for each Bonus.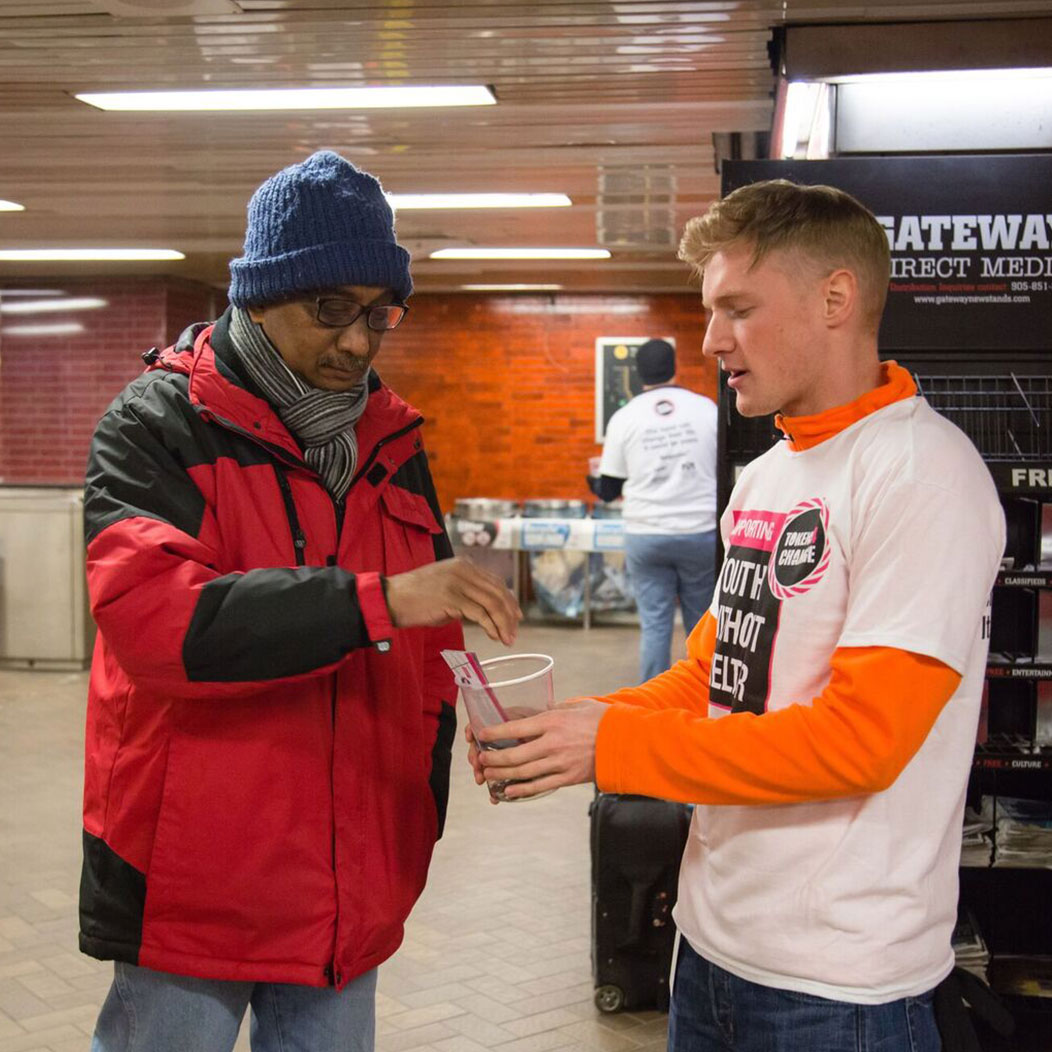 Tokens4Change
February 2, 2018, marked the Annual Tokens4Change fundraising campaign in support of #BrightWayForward partner, Youth Without Shelter (YWS). Each year, YWS volunteers and sponsors engage with subway riders at Toronto subway stations to raise money and awareness about youth homelessness.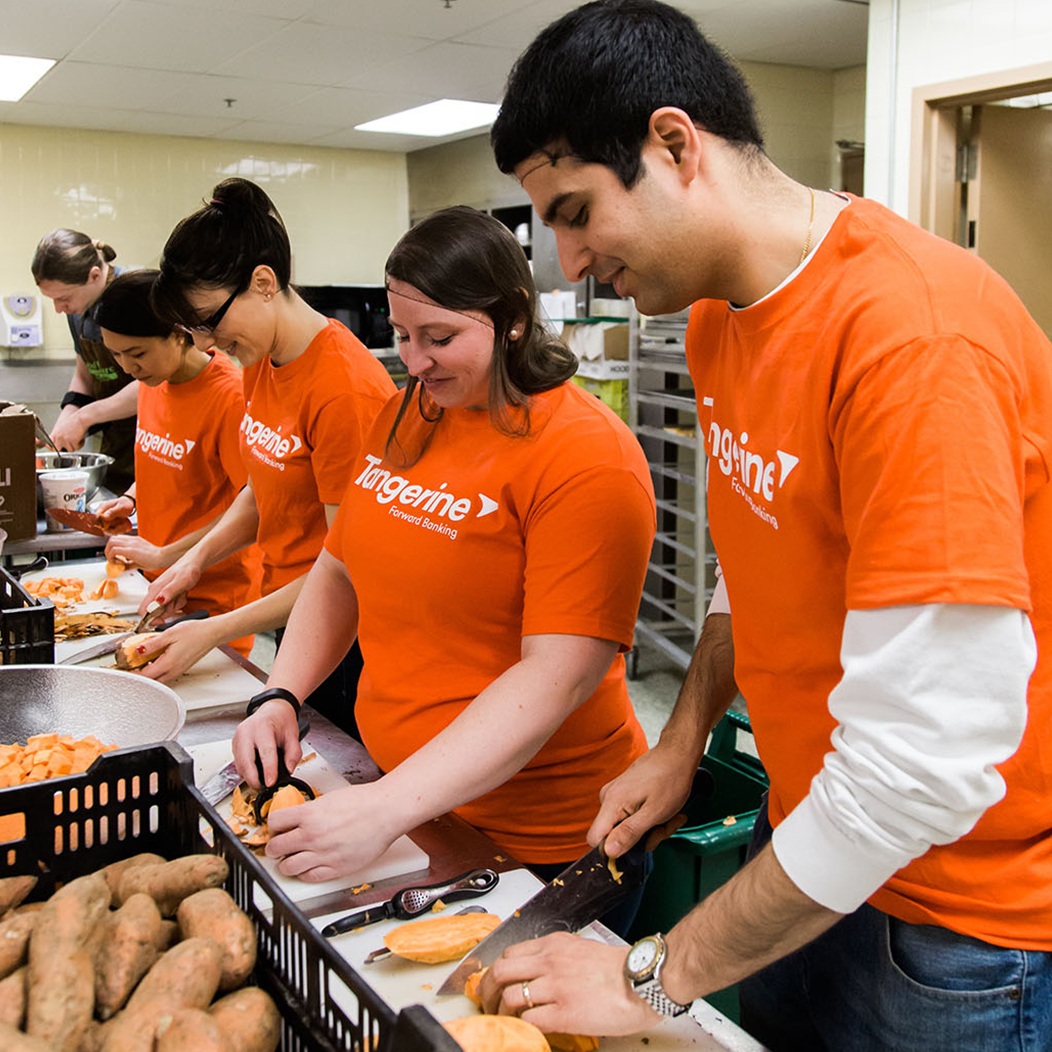 FoodShare
New employees at Tangerine participate in a comprehensive three-day orientation that includes a day-long Orange in the Community volunteer event. To date, our new team members have helped FoodShare prepare for its Big Crunch fundraiser by organizing the storage facility for new donations, while a separate group assisted in the kitchen with food and preparation and other kitchen duties.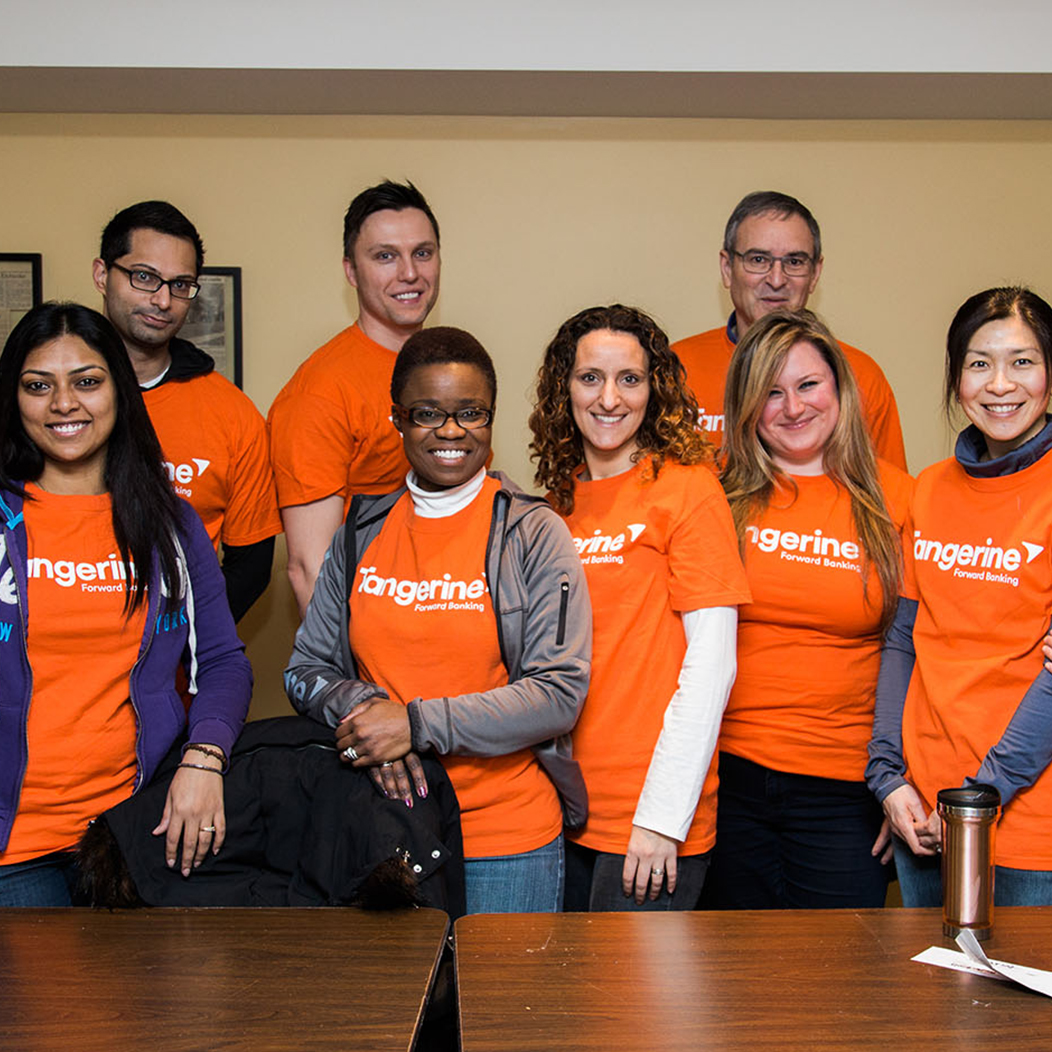 Youth Without Shelter
As part of Tangerine's comprehensive three-day orientation, new employees participated in a day-long Orange in the Community volunteer event at Youth Without Shelter. The new employees sorted new in-kind donations and assisted with post-event logistics following the Tokens4Change fundraising event.
Cover Me Urban
On April 1, 2015, a sold-out crowd of 350+ guests beatboxed, stomped, painted and savoured food and drink as Toronto's urban scene came alive through Cover Me Urban at Glass Factory. A truly inspiring $100,306 was raised and will be invested in Youth Without Shelter's five key support programs, ending homelessness one youth at a time, one step at a time.