How One Canadian Solved Her Debt Woes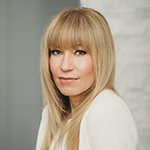 Tuesday, September 28th, 2021
Jodi from Victoria, B.C. said she felt like a "total loser." She knew she wasn't, deep down. She had a great job with seniority, and her co-workers looked up to her. But she also thought if they knew her financial predicament, they'd surely think less of her.
Her First Experience with Debt


Early in her 30s, she found herself with $50,000 of debt from funding her "live for the moment" lifestyle. Ten years of debts added up. With not enough income to service her debts and no assets to speak of, Jodi filed for bankruptcy.
The process in her words was "humiliating", but she had no other choice. It took her over seven years to see the light at the end of the tunnel.
Debt Strikes Again


Unfortunately for Jodi, another series of personal events set her back to where she was a decade ago.
"How could I be back here again?" she said. She was divorced, supporting her two children on her own and living off a line of credit while she was on maternity leave with the third. She racked up $30,000 in debt, five payday loans and had creditors calling.
Her credit score was in the low 500s, and she worried about having a roof over her head. Rents in Victoria, BC kept rising, and she was stressed constantly because if she had to look for another place, she'd never get approved with her low score.
Out of sheer desperation, Jodi reached out to a non-profit credit counsellor and found herself on a path to financial recovery. She was adamant this time around, she wanted to clean up her financial debt without going back down the path of bankruptcy and pay off the debts she accumulated.
Immediately the creditor calls stopped, she had a clear plan of repayment and in 18 months, her score went from the low 500s to 670.
How Jodi Paid Off Her Mountain of Debt
There are no quick fixes to repairing your credit, but baby steps really do make a huge difference over time. Jodi started small: she worked diligently to make her lunches and coffee at home and limit her dinners out. She spent more time window shopping than spending, but also made sure she gave herself small rewards each month, like a bottle of her favourite wine.
The plan: Jodi needed to make her payments affordable and with a definite time line, so she could see a light at the end of the tunnel. In addition to the plan, positivity also helped. "You are not your financial situation," she would tell herself.
How She Plans to Stay Debt-Free
Jodi now has all of her debts paid off and feels like a true adult for the first time in her life. The $680 she was paying monthly to her debt plan for the last five years is now going towards an emergency fund.
Once she's finished topping up her emergency fund, Jodi is planning to start investing. She's also setting aside a small percentage of her monthly savings to splurge.
She loves sleeping soundly at night now, knowing that by continuing to put money aside, she isn't returning to her old ways.
Debt Can't Be Solved Overnight
"Something we often tell our clients is that getting into debt didn't happen overnight for them, and neither will the solution," says Isaiah Chan, Director of Counselling at non-profit Credit Counselling Society. "There is no easy way out of debt. The adage 'slow and steady wins the race' certainly applies to each individual's journey towards financial freedom. The best path towards becoming debt free is to create a realistic plan that has some wiggle room and accounts for emergency spending."
If you're facing severe financial hardship and don't feel you can handle your debt on your own, reach out for help. It's imperative that you do your homework and shop around. There's a proliferation of bad actors advertising quick debt relief that isn't legit. If you're looking for a non-profit credit counsellor, you can search for a list in your area at Home - Credit Counselling Canada or search for a licenced insolvency trustee at Find an active Licensed Insolvency Trustee.
This article or video (the "Content"), as applicable, is provided by independent third parties that are not affiliated with Tangerine Bank or any of its affiliates. Tangerine Bank and its affiliates neither endorse or approve nor are liable for any third party Content, or investment or financial loss arising from any use of such Content.
The Content is provided for general information and educational purposes only, is not intended to be relied upon as, or provide, personal financial, tax or investment advice and does not take into account the specific objectives, personal, financial, legal or tax situation, or particular circumstances and needs of any specific person. No information contained in the Content constitutes, or should be construed as, a recommendation, offer or solicitation by Tangerine to buy, hold or sell any security, financial product or instrument discussed therein or to follow any particular investment or financial strategy. In making your financial and investment decisions, you will consult with and rely upon your own advisors and will seek your own professional advice regarding the appropriateness of implementing strategies before taking action. Any information, data, opinions, views, advice, recommendations or other content provided by any third party are solely those of such third party and not of Tangerine Bank or its affiliates, and Tangerine Bank and its affiliates accept no liability in respect thereof and do not guarantee the accuracy or reliability of any information in the third party Content. Any information contained in the Content, including information related to interest rates, market conditions, tax rules, and other investment factors, is subject to change without notice, and neither Tangerine Bank nor its affiliates are responsible for updating this information.
Tangerine Investment Funds are managed by Tangerine Investment Management Inc. and are only available by opening an Investment Fund Account with Tangerine Investment Funds Limited. These firms are wholly owned subsidiaries of Tangerine Bank. Commissions, trailing commissions, management fees and expenses all may be associated with mutual fund investments. Please read the prospectus before investing. Mutual funds are not guaranteed, their values change frequently and past performance may not be repeated.