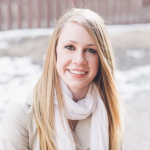 Janine Rogan
Janine Rogan is a CPA and personal finance writer and speaker from Calgary, Alberta. She is a passionate financial expert sharing her wealth of financial knowledge with Canadians and Americans. Janine has run numerous workshops, spoken at dozens of conferences, and written over 600 articles relating to personal finance. Janine hopes to empower Canadians to take control of their finances and live a value based life.
How We're Saving for a Baby
Five days into COVID-19, my husband and I found ourselves with a positive pregnancy test. Distancing measures had just started in our province, and although we had absolutely no idea what to expect when it came to being first-time parents, adding COVID-19 into the mix wasn't really what we signed up for. Life has changed for us:...