She Turned Her Love of Soccer into a Side Hustle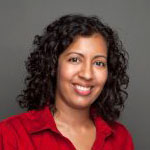 Friday, June 29th, 2018
Sonja Cori Missio calls herself an Udinese sufferer (because they finished the season in 14th place) and jokingly calls herself the future president of FIFA (Fédération Internationale de Football Association). If you haven't guessed it yet, Missio loves soccer.
Her love of the sport has led her to a freelance sportswriting side hustle including co-founding the publication Unusual Efforts, which looks at soccer from a female perspective. It's also given her the opportunity to travel.
She's done multiple trips to Montreal and Columbus for Toronto FC and several weekend trips to various parts of Europe for an Italian publication. "I've seen Champions League games, Europa Games, regular league games, and friendlies where I've bought match tickets from Canada first, and then plane and accommodation second," she says.
A Soccer Side Hustle
Since Unusual Efforts began publication, it's also become a place where female sports fans can connect and start their sportswriting careers—not only for Unusual Efforts but for other sports publications.
"One girl came to [Unusual Efforts] because she was interested in sports journalism specifically the Spanish teams," says Missio over a glass of wine. "So instead of saying, 'write for Unusual Efforts,' I knew an editor who was looking for women who can write about soccer, so I sent her straight to him. Now she's working for [Spanish publication] Marca, on their English-language publication."
A Stepping Stone for Women in Sports
Recruiters usually make money but right now Unusual Efforts doesn't take a cut from any of the writers they help. Instead, the publication relies on anonymous donors, monthly donations from their Patreon account, and a seed round of $25,000. That has allowed them to pay their writers $25, which Missio admits is a small amount.
"We publish but we also offer mentorship, advice for people and at the end of the day, help people obtain real, sustainable jobs to help future careers."
Starting Your Side Hustle
It feels like everyone has a side hustle so there are many resources to help you get started. Here are some tips from Missio:
Define your goals. Missio and Schlewitz have a three-year plan for Unusual Efforts and know what they want to achieve during that time.
Take advantage of technology. Missio loves cloud-based word processing because it lets her work anywhere, at any time.
Know your elevator pitch for the right crowd and be ready to pitch at any moment. You never know when an opportunity may appear.
Get ready to work. Building a viable side hustle takes time and energy on top of a full-time job. Missio said that doing both jobs meant giving up a bit of sleep to ensure success.
Future Plans
While Missio and Schlewitz continue to help budding sports writers find paying work, they have plans for Unusual Efforts.
"Truth is, online journalism is so rocky right now we don't know if print journalism is going to stay," Missio says.
They plan on increasing their roster of writers, producing more soccer content and moving into podcasts. They also want to be known as an incubator and the place for organizations to go when they want new women writers.
World Cup Watching
Missio is obviously watching the World Cup this year. "Every Swiss game, and I've already booked off work, I will be watching with the Swiss Club of Toronto at The Rushton at St. Clair and Bathurst. The English games I will try to watch with my ex-pat boyfriend, and when I can, the random game with my dad."
In the short term, Missio plans on enjoying the World Cup as well as writing about the sport, even if the Italian soccer league isn't doing too great these days. Hope springs eternal when you're a soccer fan.
This article or video (the "Content"), as applicable, is provided by independent third parties that are not affiliated with Tangerine Bank or any of its affiliates. Tangerine Bank and its affiliates neither endorse or approve nor are liable for any third party Content, or investment or financial loss arising from any use of such Content.
The Content is provided for general information and educational purposes only, is not intended to be relied upon as, or provide, personal financial, tax or investment advice and does not take into account the specific objectives, personal, financial, legal or tax situation, or particular circumstances and needs of any specific person. No information contained in the Content constitutes, or should be construed as, a recommendation, offer or solicitation by Tangerine to buy, hold or sell any security, financial product or instrument discussed therein or to follow any particular investment or financial strategy. In making your financial and investment decisions, you will consult with and rely upon your own advisors and will seek your own professional advice regarding the appropriateness of implementing strategies before taking action. Any information, data, opinions, views, advice, recommendations or other content provided by any third party are solely those of such third party and not of Tangerine Bank or its affiliates, and Tangerine Bank and its affiliates accept no liability in respect thereof and do not guarantee the accuracy or reliability of any information in the third party Content. Any information contained in the Content, including information related to interest rates, market conditions, tax rules, and other investment factors, is subject to change without notice, and neither Tangerine Bank nor its affiliates are responsible for updating this information.
Tangerine Investment Funds are managed by Tangerine Investment Management Inc. and are only available by opening an Investment Fund Account with Tangerine Investment Funds Limited. These firms are wholly owned subsidiaries of Tangerine Bank. Commissions, trailing commissions, management fees and expenses all may be associated with mutual fund investments. Please read the prospectus before investing. Mutual funds are not guaranteed, their values change frequently and past performance may not be repeated.