What would you do if your pet was in desperate need of life-saving surgery, but your bank account couldn't throw you a financial life line?
This happened to Naomi Arnaut in the summer of 2015. Her lack of savings had her desperately trying to borrow money. But even in her time of despair, she knew that path would create an even worse situation for her. She simply had no choice. She had to save her dog!
Then, inspiration hit. She thought: "Why not start something that I could sell that people would love and accept the cash in a form of donation to pay off my debt?" That warm summer sprouted an idea. Now it's a thriving non-dairy ice cream business that's paying dividends for Naomi all year long.
"There was a lot of trial and error. I held numerous fundraisers and pop ups to get the word out, to build my brand and turn a profit. It took over a year to pay off my dog's surgery. But, I was on my way to crafting a viable company. That's when I started Say Hello Sweets."
Getting Her Ice Cream Business Off the Ground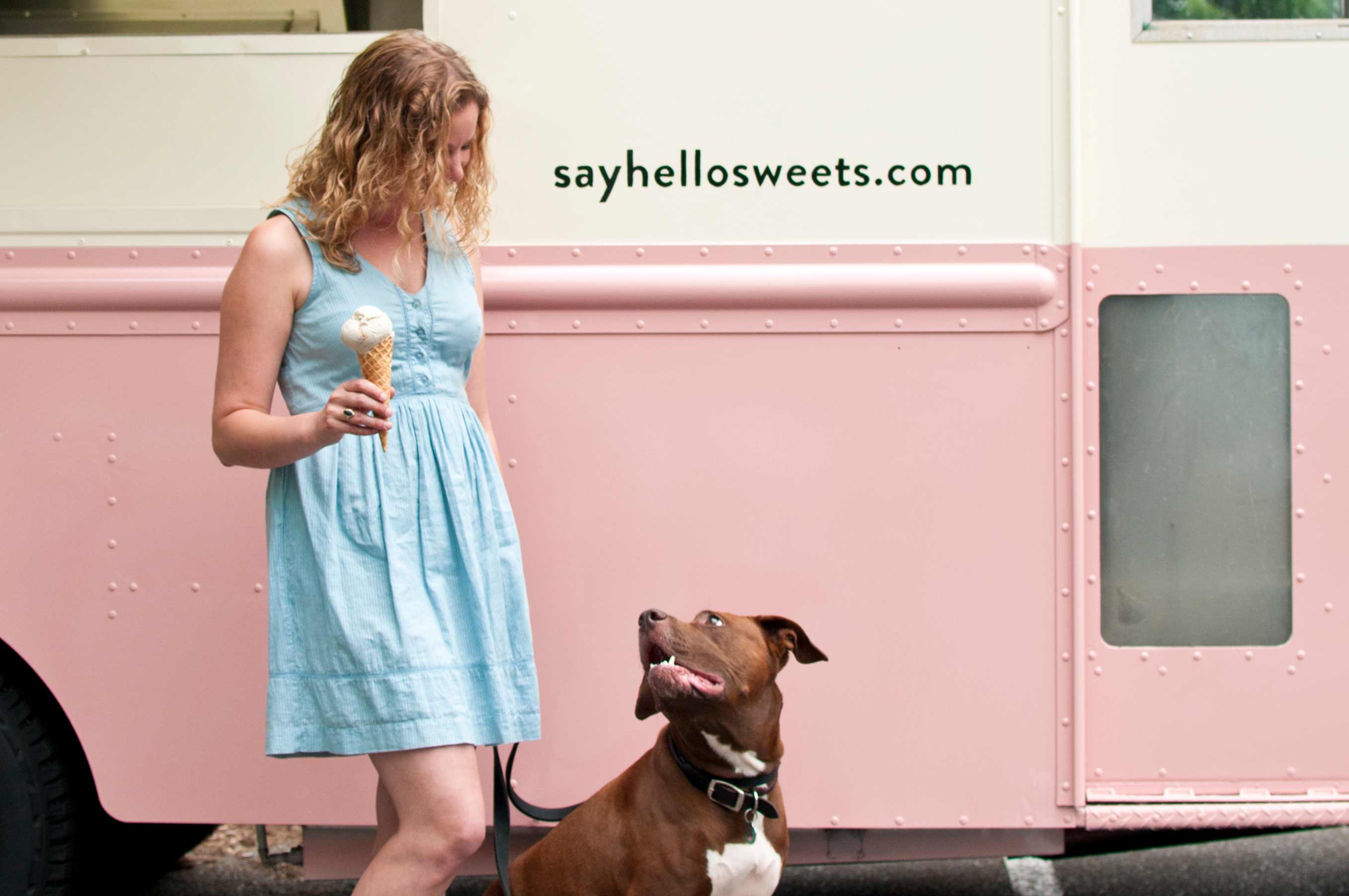 Naomi's next step was to get an ice cream truck and set up shop on the streets of Vancouver. The cost of that old truck and the amount of work it took to make it useable is something she regrets.
"My common-law partner installed a rebuilt motor and fixed the transmission system," she says. "We also painted the van ourselves and took care of most repairs and maintenance. The area that we outsourced was the plumbing and electrical, which was expensive, and the quality of work was poor. It was really costly and a big investment. The work wasn't done properly and has required more investment to fix. If I wouldn't have outsourced some of those poorly done repairs and completed the work myself from the start, I could have saved a great deal and maybe grown faster."
Today, Naomi has expanded her food truck operations in a commissary kitchen and offers catering and wholesaling to stores and restaurants to create steady revenue throughout the year – not just the warm summer months.
Strength in Numbers


Naomi credits her community for her rapid growth and success. "In the commissary kitchen where I prepare the ice cream, we work together, share ideas and support each other. There are several kombucha companies there, yet nobody sees the other as a competitor."
Why Dairy-Free?


Naomi once visited a dairy farm, and the practices she witnessed left her feeling uncomfortable with the inherent cruelty of the dairy industry. She decided it was not an industry she was willing to support, which led her to a much more ethical solution. "Plus, it's a growing trend very much embraced on the west coast of Canada," she says.
Best Advice?


"Build a community!" she says. "I had no working capital when I started – it was just me interacting with the public. Don't be afraid to ask for help. Also, know your numbers. I don't like numbers, but I learned that you can't ignore them. I just came back from my accountant. It's so important that you know where you stand financially."
What's Next for Say Hello Sweets?


"I'd love to have a storefront one day or a production facility in Vancouver," Naomi says. "But I'm open to less expensive locations like New Westminster or the Sunshine Coast. You need to strike a careful balance between demand and hard costs."