Bike Share Toronto with Tangerine
Getting around the city can be a breeze.
We're all about making things simple. So as a leading shared mobility program in Canada, Bike Share Toronto is a transportation option we're pretty excited to get behind.
Instead of battling traffic, detours and other transportation complications, Torontonians can use Bike Share Toronto to avoid traffic and save time. They can stay connected with their community and enhance their wellbeing, too.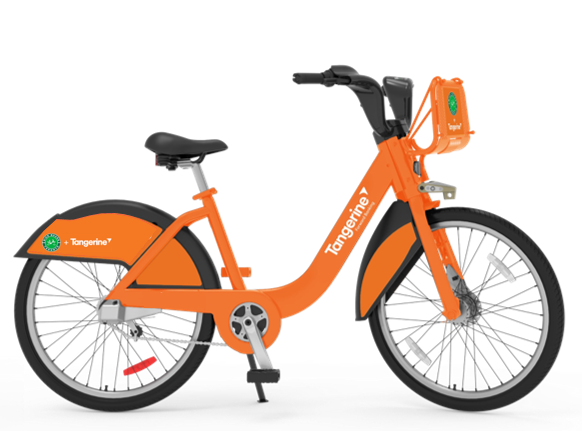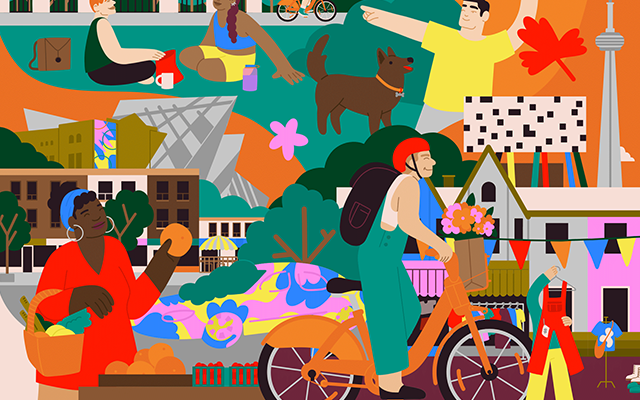 Breathing life into the city
Keep an eye out for refreshed Bike Share bikes and bike stations, featuring the work of local artists and designers. The new looks are being introduced to match the neighbourhoods and moments that make Toronto great.
About Bike Share Toronto
With a fleet of over 7,200 bikes and 680 stations (and growing!), Bike Share Toronto is the third-largest public bike sharing program in North America.
An integral part of Toronto's transportation network, Bike Share Toronto is committed to providing a mobility option to all Torontonians looking for a fast, convenient and affordable way to move around the city.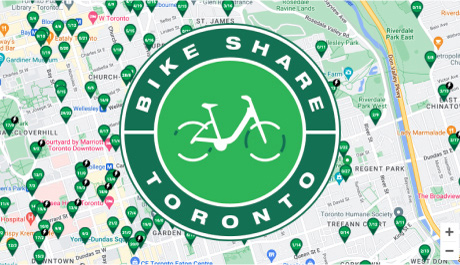 ---
Start riding today
You can purchase a short-term or annual membership here. Short-term passes can also be purchased from a station kiosk or by downloading the PBSC app.
With 680 stations spanning Toronto's vast cycling network, use the map to find the closest station to you.
By the way, you could earn 2% cash back when you pay for your Bike Share pass with a Tangerine Credit Card. Just choose 'transportation' as one of your 2% Money-Back Categories* footnote asterisk. Learn more
Not yet a Tangerine Client?
Become a Client using promo code EARNMORE and move your Savings forward faster too! You could earn up to $400 cash back plus a Savings rate1 footnote 1 .
Become a Client
footnote 1
The New Client Interest Rate and Visa* Debit 20% Cashback Bundle Offer (the "Offer") is available to new Tangerine Clients who: (a) have a Client Number created between and , (b) become a Tangerine Client using the Promo Code "EARNMORE", (c) open an Applicable Savings Account within 30 days of the date their Client Number was created, (d) open a Tangerine Chequing Account within 30 days of the date their Client Number was created, and (e) meet all other Offer terms and conditions (collectively the "Offer Qualifying Conditions"). The Promotional Rate will apply to deposits made to an Eligible Client's Applicable Savings Account(s) for 153 days (5 months) beginning on the date all Offer Qualifying Conditions have been met, to a maximum of
$1,000,000
(in the currency of the Applicable Account) per Applicable Savings Account Type (for deposits to registered Applicable Savings Accounts made through a T2033 form, please see the full Offer Terms and Conditions). The Promotional Rate is an annualized rate, calculated daily and paid monthly. Eligible Clients will earn a cashback bonus of 20% on eligible online purchases and online bill payments made on a merchant's website using the Visa Debit feature of their Client Card for 60 days, up to a maximum of $400 per Account. The 60-day period for Eligible Transactions ("Eligible Transaction Period") begins on the date the Client Card is activated. The Cash Bonus will apply to the sum of all Eligible Transactions less any refunds, returns or other similar credits made during the Eligible Transaction Period. Eligible Clients must activate their Client Card within 60 days of the date their Chequing Account was opened. The Bonus will be deposited to the Client's Account within 30 days of the end of the Eligible Transaction Period. For Clients with two Chequing Accounts, only the Account that is designated as "Chequing" on their Client Card will qualify for the Offer. Limit of one (1) Cash Bonus per Account. Offer is not transferable and can't be combined with other promotional savings rate offers or chequing cash bonus offers. Further, while opening both Accounts is not required generally in order to open either a Chequing Account or Savings Account, you need to open both Accounts within your first 30 days to be eligible for this Offer. By accepting the Offer, you agree to the terms and conditions of this Offer and consent to receive electronic messages that notify you when the Promotion Period is expiring and of any changes to your Account(s) that will take effect after the Promotion Period expires.
Full Offer Terms and Conditions, including definitions of any capitalized terms, are available here
. Offer may be changed, extended or cancelled without notice.